---
When I started counting my blessings, my whole life turned around.

Willie Nelson
Thanksgiving is usually all about the traditions. However, there's nothing traditional about the year 2020. So, maybe this year's Thanksgiving is the perfect year to mix things up and try something new at your dinner table. And if it doesn't go well, you can just blame it on 2020. But I'm here to make sure it doesn't happen.
From music to meals, the holidays are a time to celebrate and treat yourself and your loved ones. It's definitely important to keep that spirit going all day long (and hopefully all season and into a much better 2021). Everyone looks forward to the Thanksgiving turkey . . . of course! While Tom is roasting in the oven, what else might you do with those three hours of cook time?
If you want to keep the entire clan engaged, involved and energized, look no further than this fun list of appetizers, game ideas and more — all with perfect playlists to match.
---
Desserts
Let's get this straight: I love pumpkin pie. I honestly believe pumpkin pie was one of the greatest inventions of all time, so I am by no means suggesting you replace its place of honor at your dessert table. However, there is a world of sweet possibilities beyond pie that will elevate your Thanksgiving meal from gobbly-good to genuinely glorious.
Here are some delectable desserts I'm trying out this season.
While you're getting ready to serve your dinner, don't forget to set the mood with this gratitude-inducing playlist that will have you and your family basking in bliss.
Thank You (acoustic version) by Dido
"And I just want to thank you for giving me the best day of my life."
Home by Phillip Phillips
"You know you're not alone, because I'm going to make this place your home"
What a Wonderful World by Louis Armstrong
"The bright blessed day and the dark sacred night, and I think to myself, What a Wonderful World"
Thanksgiving Song by Mary Chapin Carpenter
"Father, mother, daughter, son, neighbor, friend, friendless, let grateful days be endless"

I Could Not Ask for More by Sara Evans
"These are the moments that I thank God I'm alive
These are the moments I'll remember all my life."
Thanksgiving Prayer by Johnny Cash
"We've come to a time in the season, when family and friends gather near, to offer a prayer of Thanksgiving"
---
Cocktails
Though cocktails usually run on the colder end of the temperature spectrum, on a chilly autumn evening, they can be the perfect way to warm up by a fire. The spicy taste of fall are seamless foundations for Thanksgiving-themed cocktails, and with the removal of alcoholic ingredients, mocktails too!
Your entire family will enjoy toasting to your health and happiness with these boozy beverages:
No cocktail party would be complete without a playlist to complement it. For a night you'll truly be thankful for, try these on for size:
Harvest Moon (unplugged) by Neil Young
"Because I'm still in love with you on this harvest moon"
Smile by Nat King Cole
"Smile, and maybe tomorrow, you'll see the light come shinin' thro' for you"
I've Got Plenty to Be Thankful For by Bing Crosby
"My needs are small, I buy them all, at the five and ten cent store, Oh I've got plenty to be thankful for"
Danke Schoen by Wayne Newton (via Ferris Bueller)
"My heart says Danke Schoen"
---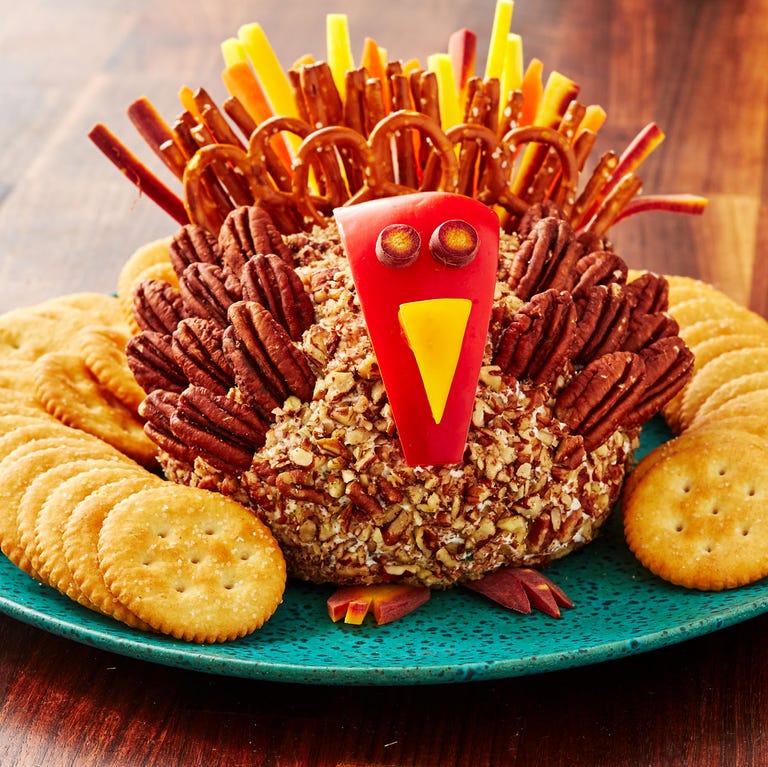 Appetizers
The stars of the Thanksgiving show are the 20-pound turkey, platters of mashed potatoes, endless helpings of stuffing, and so much more. While the feast is the "main course" of the day, an unsung hero too often overlooked: the appetizers!
While you're mentally preparing for the imminent food-coma, and picking out the perfect pair of stretchy pants to compensate for all of the food-babies to come, you're more than likely going to want to munch on some seasonal snacks and hors d'oeuvres. Make it worth your while or pace yourself with some healthy options. Regardless your preferences, the following appetizers will get the festivities started!
Don't snack in silence! Fill your house with some holiday-friendly sounds with this playlist:
A Charlie Brown Thanksgving, Instrumental by George Winton
Everyone Eats When They Come to My House by Cab Calloway
"Get with the gravy, Davy; Everyone eats when they come to my house"
Family Table by Zac Brown Band
"Pull up a chair and stay awhile at the family table"
All that Meat and No Potatoes by Louis Armstrong
"Hold me steady, I'm ready, for all that meat and no potatoes"
---
Game Time!
There's the big Thanksgiving game and there's the even bigger Thanksgiving game I like to call "Fighting the Turkey-Coma." Though you can train your tummy for the barrage of food coming its way at dinnertime there's no way to prepare for those inevitable meat-sleeps. Sometimes the only way to stay awake long enough to see dessert is to challenge the family table to a healthy competition. Try one of these simple games to keep your family sharp and keep the festivities going past food-fatigue:
Keep the family energized with a playlist full of uplifting turkey day tracks to make this Thanksgiving one for the books!
Love Train by the O'Jays
"People all over the world, join hands, and start a love train"
Lovely Day by Bill Withers
"Just one look at you and I know it's going to be a lovely day"
We Are Family by Sister Sledge
"We are family, get up everyone and sing"
Thankful by Kelly Clarkson
"That I'm thankful for the blessings and the lessons"
The Thanksgiving Song by Adam Sandler
"This is the Thanksgiving song, I hope you enjoy it" ~ 'Nuff said
---
Thanksgiving is many things: a delicious meal, a day for parades and football, and endless hours of "It's the Great Pumpkin, Charlie Brown." Most of all, though, it's a day of reflection and reassessment. It is a day to truly take stock of the things in life that fill you up and examine how you can make healthy changes moving forward.
Maybe you'll sit around the table with family this year, or perhaps the pandemic has fumbled the dynamics of your gathering. Whoever you're able to express gratitude and break bread with this Thanksgiving, commit to cultivating the most joyous and festive environment possible. You deserve it!
Whether it's cocktails or mocktails, pumpkin pie or tiramisu, don't be afraid to go all out. There's no better day to surround yourself with drinks and desserts than on the ultimate day of indulging yourself and being grateful for the gifts of love in your life.