"Natale con i tuoi, Pasqua con chi vuoi."
"Christmas with family, Easter with friends."

Unknown
Happy Easter, Friends! Or should we say, buona pasqua!
There's nothing like eating with some real Italians! I met my godparents, Tino and Nikki (short for Valentino & Nicoletta), when I was in my early 20's. We had communicated by snail mail all my life. They were lovely little missives about my schoolwork through the years and their activities in New Jersey (spring/summer) and Florida (fall/winter). So, it was a joy to finally meet them when I was living in Washington, D.C. and could easily make the drive up the turnpike.
They were as animated and delightful as they seemed in their letters, and 30 minutes into our initial meeting, it was as if I had grown up with these people each and every day. It was that comfortable and meaningful to break bread with them.
As soon as I sat down at the kitchen table of their humble home, and the aromas of bubbling pots wafted in the air, I knew I was going to be in for a big feast—Italian-style. Little did I know how wonderful and expansive it would be. So, are you sitting down? And while you're at it, you might as well unbutton the top button, or two, of your pants.
My aunt set before me a bowl of homemade pasta and sauce, with homemade sausages and sliced fresh bread. It was surreal and otherworldly. So much so, I helped myself to seconds and thirds. It was as if this starving struggling kid fresh out of college had never eaten a meal. And I'm sure that's what they thought as I slurped spaghetti into my mouth and asked for another helping.
Little did I know, that was just the start. Next came the roasted chickens and homemade gravy. While my aunt took them out of the oven and started carving them, my uncle was at the stove laboriously stirring a large pot with a big wooden spoon. And when I say large pot: It was tall and stout, and the big wooden spoon likely could have stood as an accessory anywhere in the house. He stirred and stirred like a scientist over his beakers. Finally, when it was declared "done," he put a large wooden platter on the table (you know the ones that are de rigueur nowadays for lavish charcuterie and cheese platters), and poured the contents of the pot onto the wooden platter. "Ecco, the polenta is served." It was formed into a hearty rectangle. My uncle brought a roll of twine to the table, and it was sliced with twine. Onto the plate the polenta was served with a hearty slice of provolone cheese, followed by my aunt placing succulent pieces of roasted chicken that would make Ina Garten's husband swoon. And then the gravy. Wow! Could it get any better than this?
After the pasta, it was hard to indulge much more. Yet, I couldn't be rude. So I politely tackled this mouth-watering plate, and before I knew it, my plate was clean. That had to be it, right? Wrong again. Out to the garden Uncle flew with a pair of shears and a colander in hand, and back to the kitchen he landed, delicately washing some fresh radicchio and arugula from the garden. The insalata was dressed like a bright summer day with some salt, pepper, EVOO and red wine vinegar. Then came more cheese and bread. And then fresh apple pie and homemade vanilla ice cream. I think my pants were fully undone by the time I left the table four hours later. Whew! And OMG at the same time.
For a humorous little postscript to the culinary adventure that this visit was, my aunt packed four—quattro—sausage and pepper sandwich rolls into the passenger seat of my car "just in case I got hungry on the 3 hour drive back to D.C.!"
This is just another lovely heart-warming recollection of eating with my family as I was growing up. Meals that warmed your stomach while your heart cultivated memories that will be forever.
So, when I think of family gatherings and holidays where terrific food and festive friends are present, it's hard not to think of a beautiful Easter meal Italian-style. This year, why not celebrate Easter with a little bit of la dolce vita. Instead of the same old Easter brunch, let's use our cooking prowess for an Italian Easter dinner feast to impress?
There's nothing like an Italian feast, and this traditional 10-course Italian Easter dinner with all the foodie fixings will be the holiday meal that no one will soon forget. Bring your friends…and your appetite!
---
When in Rome: How to Celebrate the Italian Way
Easter is an important holiday in Italy where over 85% of the population is Christian (and most of those practicing Catholics). In Italy, Easter is a big deal. So big, in fact, that there are actually two days to celebrate it! Easter Sunday is for going to church and eating with friends or family, while Easter Monday (Pasquetta, or Lunedì dell'Angelo) is for picnics, games, and parades.
After a long period of deprivation during Lent, Easter is both a celebration of faith and the return of all those delicious forbidden foods. And in Italy, finding quality food to dress your Easter table is easy as pie. The traditional fare includes soup, egg dishes, lamb, green spring veggies, and lots of bread of course.
Ready to dig into some delicious Italian Easter eats?
The Italian Easter Dinner
If Italians know one thing, it's how to eat. The traditional Italian meal has ten courses, starting with light nibbles and ending with a little something to help wash it all down. Let's explore some traditional and unique dishes to serve for your Italian Easter feast!
Aperitivo
The aperitivo is a simple course that starts the meal off right. It's best to serve a few light snacks, like olives, nuts, or savory cheeses. Don't forget to pair with something bubbly! So, what to enjoy?

Taralli are crunchy snacks, kind of like bagel crackers. They are traditionally made with only three simple ingredients: olive oil, flour, and white wine! Add your own twist of savory flavors like sea salt, rosemary, or sesame seeds.
Olives are the perfect aperitivo snack. This recipe for warm Gin and Herb Marinated Olives with Citrus makes them extra special for Easter.
As for something to refresh your palette, the Campari Spritz is an Italian springtime favorite. Simply, pour 2 ounces of Campari with 3 ounces of Prosecco, 1 ounce of tonic water over ice. Or, pour some prosecco or spumante for the perfect simple aperitivo sip. Go the extra mile with a Mediterranean Sparkling Spring.
Antipasti
Ah, antipasti. You could really make a whole meal out of antipasti. But, to save room for our other six courses, we'll keep it simple. This course is most similar to our "appetizers" and includes either small-plate dishes or a charcuterie spread.
Make a cheese board with all your favorite Italian cheeses (Pecorino Romano and Fontina offer a good starting point). Add nuts, a few meats (like prosciutto), artichoke hearts, and pickled vegetables.

Got picky eaters in the house? Peas and pancetta bruschetta is a simple, kid-friendly appetizer that celebrates spring the Italian way.
Keep sipping your aperitivo,or switch to your favorite wine.
Primi
Primi is the first course with hot food and is slightly heavier than antipasti. They tend to be pastas, soups, or rice dishes.
The classic soup to enjoy on an Italian Easter Sunday is Italian Wedding Soup. This Roman Easter Soup is a delicious and vibrant twist on the classic.


You can't enjoy a decadent Italian meal without a little pasta. The pasta dishes served on Easter vary from region to region. Agnolotti del Plin is a traditional Northern dish, and while it is delicious, it can be time consuming. If you don't have all Sunday, opt for Lidia Bastianich's Ziti alla Norma.

At this point in the meal, it's common to switch to wine. A Sauvingnon Blanc or Pinot Grigio pairs well with a light soup. For non-drinkers or young diners, consider having sparkling water with orange slices or a Mimosa Mocktail on the table.
Secondi
After a lighter primi, secondi welcomes in the heartier meats, sausages, and seafood. Dishes may be stewed, roasted, or grilled.

Lemony chicken piccata is the perfect crowd-pleasing main for an Italian Easter. Or, go the traditional Italian Easter route with a lamb dish. If you're ready to get out the barbecue, grill up these decadent Agnello A Scotta Dito grilled lamb chops. Or, go for a hearty baked lamb with potatoes.
As for your drinks, continue to pair your wine according to your dishes.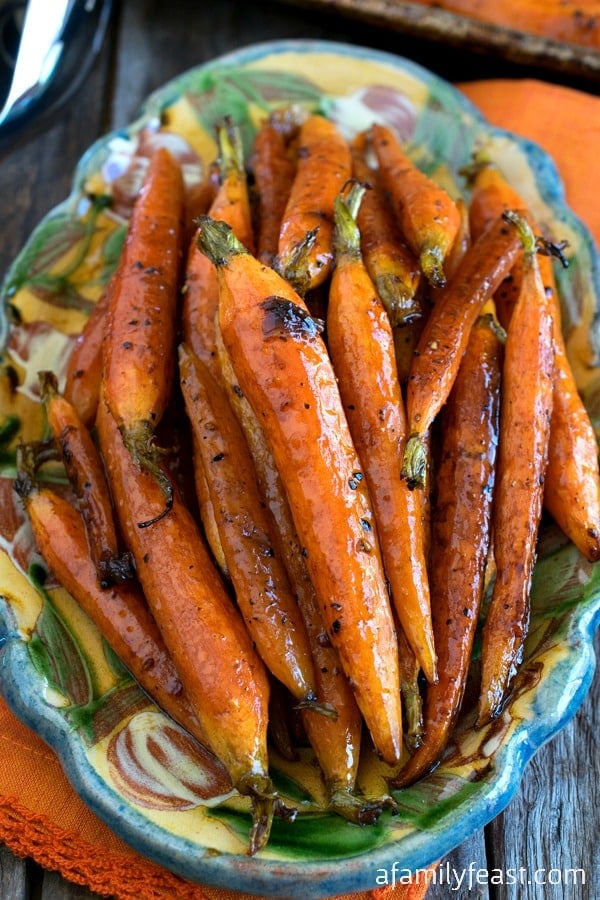 Contorni
Contorni dishes are the vegetable side dishes served with the meaty secondi plates. They may be raw or cooked, but are always seasonal! This is the perfect time to let the spring vegetables shine.

Carrots are synonymous with Easter, and these Tuscan-style roasted carrots are sure to please the whole table. Asparagus is another fresh spring vegetable—and a staple in Italian cuisine. Try this Lemon Garlic Asparagus and add lots of freshly grated parmesan.
Insalata
While we tend to have our salads before our mains here in the States, the leafy green vegetables come near the end of the meal in Italy.
Try your hand at a quick insalata mista, or simply drizzle a bit of olive oil and lemon juice over a bed of fresh arugula.
Formaggi e Frutta
If you thought cheese as an antipasti was enough, think again! The next course in a traditional Italian meal is the formaggi e frutta or cheese and fruit!
Choose local cheeses (if possible) or seek out some italian classics like mascarpone, fontina, or Asiago. Pick out seasonal fruits that are local to your area. Don't forget some grapes for an Italian vineyard touch.
Dolce
Dolce: the moment we've all been waiting for! Italian desserts are some of the finest on the planet. And the beautiful thing about Italian sweets is that they aren't really all that sweet in comparison to the sugar-laden desserts we're used to in the West.
From Italian Easter cookies to Pastiera Napoletana, you can't go wrong with any Italian dessert this Easter. But does it get more Italian than tiramisu? This classic will always be fit for a special occasion, no matter what holiday it is.
Caffee
After dessert, it's time for coffee! But don't start up your Keurig just yet.
Italian caffe is a small cup of a strong espresso, served without milk or sugar. Here's how to make the perfect after dinner espresso.
Digestivo
Digestivo
Finally, we've come to the end of our traditional Italian Easter dinner with the digestivo course. This "course" is dedicated to helping us digest all that delicious food and wine.
During the digestivo course, serve a small glass of a classic Italian digestive drink like frappa, limoncello, or amaro. For a non-alcoholic way to complete your meal, enjoy a fresh glass of water and a peppermint candy to get your digestive system going!
Happy Easter and Happy Eating!
"Sono pieno come un uovo."
As the saying goes, I'm as full as an egg! After your Italian Easter dinner, you will be too. May you have a joyous and fulfilling Easter holiday with your friends and family.
Happy Easter!