---
You have to be romantic to invest in yourself, your money, and your time in cheese.

Anthony Bourdain
Every Spring in Sonoma County, California, there is an event called the "California Artisan Cheese Festival." If you like cheese, you will eat your way through the day devoted to delectable dairy delight! It's a terrific opportunity to meet small local cheesemakers, take some seminars (i.e., how to make your own cheeseboard, the perfect bubbly, wine and beer pairings for cheese) and even try your own hand at making fresh cheese.
Like most food festivals, there are ample opportunities to try new things. I had the joy of attending this festival with friends for a couple of years! We started eating and drinking cheese with wine (or beer) at 9:00 a.m. guided by our learned instructors, and didn't stop until dinnertime, where we ate and drank more at a local restaurant. It was cheese and wine nirvana!
The cheeses were made from goat, sheep and cow milks. They were soft, semi-hard, hard, creamy and mild. And then there were the bold cheeses. They weren't the kind of tame childhood memories. They were the kind that demanded the tang of a pickle, the freshness of a tomato or a crisp lettuce leaf. These were the kinds I loved best. They sparked my curiosity and made me grin from within.
Fast forward to 2021. Most of us are knee deep into our healthy New Year's resolutions and hunkered down with commitment to skip this or that treat and to do X, Y, or Z for exercise. After all, "No pain, no gain," they say. But just like the perfect balance between cheese and wine, there's also the adage that "For every disciplined effort, there is a multiple reward." Simply put, indulge a little.
Once the holiday cheer has passed and the winter lull sets in, it's nice to have a little something to look forward to, right? And here it is:
National Cheese Lovers Day on January 20th. It's the perfect excuse to perk up the winter blues with an indulgence of the cheese kind. Any old cheese cubes won't cut it for National Cheese Lover's Day. So let's explore the fabulous world of cheese, learn to be true "romantics," and share the best tricks for creating a cheeseboard worthy of celebration!
---
Why Make A Cheeseboard?
No party (or upscale night in) says indulgence quite like a cheeseboard.
The cheese board of Olde (we're talking the 60s and 70s) consisted of a dinner plate hosting a port wine cheese ball rolled in crushed almonds wreathed in Ritz crackers and a can of spray cheese. If the host was generous enough to include a Hickory Farm summer sausage, it leveled the party to elite status.
There it would sit, merely a shadow wedged between the fondue pot, the "relish tray," a platter of deviled eggs, the shrimp cocktail, open-faced cucumber sandwiches, and a Crockpot, stuffed with party Franks swimming in a tangy barbecue sauce.
My, my how cheese boards have evolved! Today the cheeseboard proudly takes up prime real estate on any buffet. With a little determination, our Cheese 101 review below, and the right display pieces and serving utensils, you too can surprise and delight your party guests with unique and tasty crowd-pleasing cheese boards. Let's get to the basics.
---
Cheese 101
Good cheese, like a fine wine, is an investment. And it can also be an acquired taste. As such, selecting the right cheeses for your cheese board takes a bit of research. You must understand the nuances and flavors, the processes, even the science of cheese to create the perfect balance between your chosen cheeses and the other food and drink you'll pair with them.
Nuances & Flavors
Rule of thumb: Don't offend—some cheese stinks. And that's a compliment! (These are the EDWP hostess' favorites!) However, be mindful of the cheese's aroma. One stinky cheese can overpower the room and deploy a forcefield.
Popular cheeseboard selections include cheeses with lactic (milky), grassy, fruity, floral, nutty, or earthy aromas. Taste-wise, you'll experience cheese that has sweet, sour or acidic, salty, bitter, and umami (savory) flavor profiles.
The Process
To get all these delectable flavors, cheese must develop or age. Proper aging is achieved in basements, caves, and converted refrigerators. The milk source, season, geographical location, time, color, aroma, texture, moisture content, flavor, firmness, presence of mold, bacteria, and gas holes, or "eyes" (think Swiss) are all critical factors to get the perfect cheese from farm to table to cracker.
Pairing & Balance
It is essenal to pair the right edible accouterments with your cheese selections to combine the perfectly suited cheeses on the board. Most cheeses love wine, while some cheeses prefer crackers. Spreadable cheeses work perfectly with vegetables and complement dips. Others are better nestled up with fresh fruits and drizzles of sweet honey.
The Science of Cheese
Want to really get to know your cheeses? Visit the Cheese Wheel for the most comprehensive breakdown of all things cheese.
---
Now Boarding! Making the Perfect Cheese Board
Okay, we've established where your cheeseboard needs to land on the snack or buffet table. With the knowledge you've gained from Cheese 101, it's time to create an inrrestistible cheeseboard.
Choose Your Cheese
First, establish a purpose for your cheese board. You may be gathering for a dinner party and only want a little nibble before eating. In this case scale it back to just a few selections. Or, if your stunning cheeseboard will be taking center stage, this is where you can splurge!

Here are the most popular types of cheese to consider. No matter the guest count, you can combine a few from each of the following categories for a crowd-pleasing cheeseboard.
Aged Cheese: Aged Cheddar,

Queso Zamorano

, Gruyere, Gouda. Aged cheeses offer the palate a rich experience. You'll detect fruity tones and flavors that are also earthy and nutty with a soft finish.
Soft Cheese: Brie,

Tomme de Savoie

, Fontina, Emmenthaler, Camembert, Goat. Typically made using unpasteurized milk, soft cheeses are super rich and creamy.
Firm Cheese: Manchego, Parmigiano-Reggiano, Edam. These exquisite cheeses are sweet, semi-nutty, and infused with just the right amount of microscopic air pockets. Moderately rich flavors that most people find to be simply perfect!
Blue Cheese: Gorgonzola, French Blue, Roquefort, Stilton. Love it or hate it, this pungent, creamy, sharp, and somewhat salty cheese is a diehard staple on any cheeseboard. TIP:

Rogue River Blue

was voted Best Blue Cheese by 250 panelists. This exquisite limited edition seasonal blue cheese, wrapped in organic, biodynamic Syrah grape leaves soaked in pear spirits, cannot be missed. The texture is fudgy and rich. The taste will knock your socks off. Imagine "pear brandy, vanilla, toffee, truffle, and fig, with a signature, pronounced "blue flavor."
Treat Yourself Cheese: If you want to stay true to the cheeses that play well together, but also desire a little something special on the cheese board, splurge on a nice wedge of

Humboldt Fog

,

Truffle Tremor

or

Epoisses

.
Complement Your Cheese
A cheese board is not just about the cheese, it's about a balance of flavors. Arrange displays of fruits, crackers, olives, and more to bring out the best of your cheeses.
Fresh Fruit. If you want to add some fresh fruits to your cheese board, slice up some wedges of Granny Smith, Honeycrisp, and Jazz apples, and juicy Bartlett or Anjou pears. Hard, sharp cheeses go great with apples; soft spreadable and creamy cheese make pears taste even more spectacular!
Jellies & Spreads. Jelly and spread condiment pairings add contrast to the salty and sharp flavors of the cheeses. For example, sour cherry preserves with a slice of swiss or brie is divine. Apple butter or mustard horseradish dip are great as a dollop on fontina, gouda, or manchego. TIP Great Resources for the tastier and more unusual spreads include:

LeBon Magot

: Try them for sweet and savory flavors like: white pumpkin and almond and spiced raisin. Also try

V Smiley Preserves

: Their Cherry Fennel Sherry Jam is a featured flavor for January
Honeycomb. Make your cheese board especially enjoyable with a

square of fresh honeycomb

: sweet, sustainable, and nutritious. TIP: Try some of these small produced honeymakers:

Red Bee

,

Astor Apiaries

,

Asheville Bee Charmer

Crackers. There is an enormous selection of crackers that will inevitably make you crumble if you don't know what tastes best with which cheese. Here are six delightful cracker varieties to make your cheeses sing!
Effie's Scottish Oat Biscuits: These traditional Scottish crackers are sweet with a rich, oaty flavor. They're perfect with soft, creamy, and cheddar cheeses.
Australian Water Wheels: These are plain and simple. The essential vehicle that transports the cheese from the tray to your mouth. These wafers complement every type of cheese.
Delia's Biscuits: These are nut and dried fruit-studded biscuits that pair well with soft, lactic cheeses like brie.
Urban Oven Crackers: Kissed with olive oil, these semi-nutty crackers are gruyere, cheddar, and gouda friendly.
Raincoast Crisps: These are salty and sweet, like a little slice of bread. Soft and blue cheese heaven!
Mary's Gone Crackers: These are gluten-free crackers. They contain brown rice, quinoa, flax, and sesame seed, ground together in flat little circular shapes. Every cheese, please!
Olives: Pitted olives are an essential cheese snack companion. Look for black, green, Kalamata, and Cerignola.
Pickled Snacks: Any of these items will take your cheeseboard up another notch, and are guaranteed to be a conversation piece for yappy hour!


Pacific Pickle Works

: All natural pickles and pickled vegetables. And try their

Jalabeanos

and

Blood Mary Elixir

for your Bloody Mary's
Olympia Provisions: Try them for all things charcuterie, and their pickled cauliflower.
Nuts & Dried Fruits: Include small ramekins of raw or roasted, lightly salted nuts. Cashews, pecans, almonds, and pistachios are all heavenly with cheese.

B&R Farms

: You'll swoon for their California dried apricots and

Dardiman's

Fine Snack Company for their mandarin and blood orange crisps
---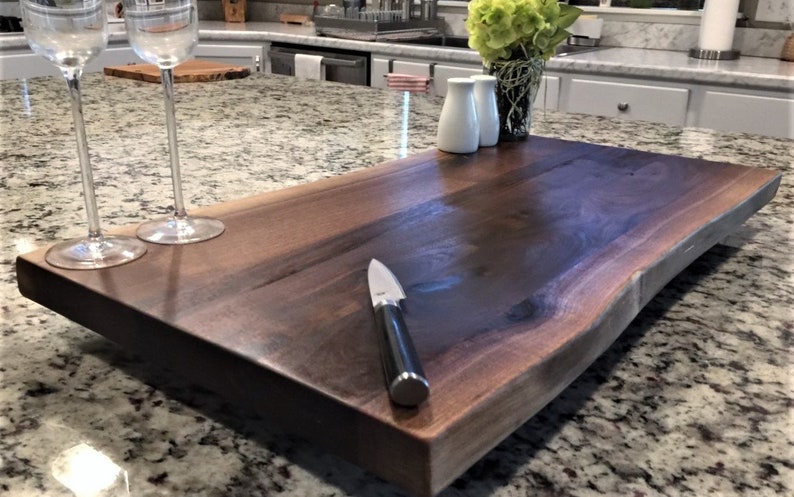 Assemble Your Board
With such a plentiful selection of cheeses and accoutrements, it's time to decide how to assemble the board.
No Boring Boards
Cheese boards come in a variety of materials. Wood is the most common, but bamboo, marble, agate, and slate make striking arrangements. Really, any flat serving piece works to display cheese, as long as it has a food-grade surface. Once the landing platform is selected, it's time for the cheese to touchdown! Some great online shops to explore are:
JK Adams: Beautiful tabletop and baking items to add to your collection
Chase Vintage: For all things antique, European and architectural for your tabletop
Dct Arts: Custom-made fine wood products for those one-of-a-kind must haves
If you're sharing, be sure to include signs that tell the cheese name and flavor, a set of small cheese knives, and plenty of toothpicks and cocktail tongs for guests to assemble their personal plates.
Play With Shapes
Most cheeses come packaged in squares, triangle wedges, and circles. Having a selection of geometric shapes makes for an exciting aesthetic.
Balance Your Board
A truly successful and memorable cheeseboard begins with a balance of both recognizable and unique kinds of cheese. Finding balance on the board also means choosing condiments that support multiple flavor profiles.
Pair With Cocktails & Wines (and even beers)
Choosing the right wines to pair with your cheese is an art in and of itself. Start with this guide to pairings, then do your own experiments to see what you like best.

Here are some pairings that are tried and true:
The Classics
Old Fashioned & Rogue Creamery Caveman Blue
Sparkling Wine and Cremeaux de Bourgongne
Gin Cocktail & Vermont Creamery Bijou
Spicy Chili Margarita & Aged Gouda from Wisconsin
Blueberry Rhumba Cocktail & Grafton Village Cheddar
Decadent Wines & Cheese Pairings
Iron Horse Brut & Epoisses
Roserock Drouhin Pinot Noir & Gruyere
Postmark Cabernet Sauvignon & Pecorino Toscano
Montinore Riesling & Shepherd's Way Brie from Tennessee
---
Nobody Puts Baby Swiss in the Corner
In the words of the infamous chef, James Beard, "Good cheese needs good companions." Here! Here!
With these recipes, you'll be well-prepared to celebrate National Cheese Lover's Day in style. Have fun discovering the endless world of over 900 cheeses and the Top Ten Cheeses of 2020, and challenge yourself to create the most unique, tasty, and party-popular cheese board! Salud!