Winter is the time for comfort, for good food and warmth, for the touch of a friendly hand and for a talk beside the fire: it is time for home.

Edith Sitwell, British Poet
---
Winter and the holidays are really the most wonderful time of the year. It brings gingerbread cookies baking in the oven, snow falling softly outside, and fires blazing all night long. (Or, if you're like me in the warmth of Southern California, or other non-frigid areas, we can enjoy the beauty of the winter in other ways and through our favorite Instagram accounts.) Though the season is ultimately about love and togetherness, new goodies and gifts are also a traditional part of the holiday charm!
When a day (or a season) feels otherwise bleak, looking at festive holiday lights or smelling the pine of a Christmas tree can fill one's heart with joy. It seems the season itself is ornamented and adorned with loveliness. What better time of year for an Eat. Drink. Work. Play. Essentials round-up than one devoted to the sights, sounds, smells, tastes and feels of festivity.
Edith Sitwell nails the essence of winter right on its proverbial white snowy head. It's time for home and for comfort, friendship and family! Take the time to celebrate the season. Enjoy the warmth of love from others and count your blessings large and small. And most importantly, take the time to care for yourself.
---
Winter Essentials for Eating
Vanilla bean paste is the baking ingredient you don't know you're missing. Upon using it, you'll ask yourself how you ever lived without it. Have any of those recipes that call for expensive vanilla pods or beans and require scrupulously scraping the "nectar" into your recipe? Well, save yourself the time and infuse the vanilla flavor tenfold into your holiday treats and ice cream. It's expensive, but it's one ingredient that is truly worth it.
Cost: $24.95 for 4 ounces
Have you been naughty or nice this year? However you land, treat yourself, and your family or brunch guests with these delicious scones from Seven Sisters Scones. In flavors like: Eggnog, Chocolate Kahlua, Strawberry Champagne and Orange Mimosa, you'll feel nice being naughty. Or you'll feel nice gifting naughty when you bestow these scones as a delectable hostess gift. So many options, even beyond the holidays.
Cost: $36.00
If there's one pleasure I don't feel guilty about on the holidays it's drinking cocoa like it's water. It's delicious and hydrating; so, that counts as a health drink, right? Okay, maybe not, but is your kale smoothie topped with mouth-melting marshmallows? I don't think so. If you're indulging, make it count. These delicious handcrafted marshmallows from Freckled Hen Farmhouse are gluten free and dairy free and they come in three flavors (vanilla, bourbon, and peppermint)!
You may have your Christmas ham or roast, but the stars of any Christmas table are the baked goods. Cakes, pies, cookies, it seems like something's always just coming out of the oven, tempting you on the kitchen table throughout the winter days. For many of us, these treats are baked lovingly by a parent or family member we now have to isolate from, and let's just say baking skills don't exactly run in the family. If you're lacking the skills to create the Christmas goodies of your dreams, try Instagram famous home-baker Matt Adlard's "Bake It Better" online classes; from cakes to tarts, you'll be whipping up sweets even your grandma couldn't top!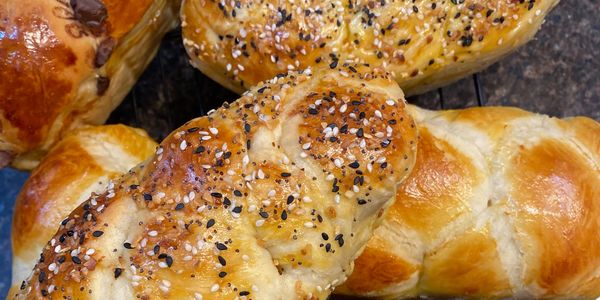 The Challah Back Girls are four sisters selling their freshly baked confections for several great causes including NeighborFood Meals, the International Rescue Committee, and Saving Mothers. One hundred percent of their monthly proceeds go into the pockets of these and other great organizations, so you don't have to feel so guilty about all those carbs. Their special Hanukkah Challah is on sale now! It's love at first bite!
Cost: $10.00 (varies on items)
Given that eating is arguably the most festive activity to do during the holidays (that's what I tell my scale, anyway), chances are there's a foodie or two in your life that you're looking to gift accordingly this year. Consider your search over! The folks at Good Neighbour have done the heavy lifting by creating their Festive Foodie Gift Set complete with fine olive oil, fresh spaghetti, an adorable tea towel, a gourmet Icelandic chocolate bar, and more! Finally, a set special enough for the food-lover who has everything.
Cost: $150.00
Many of my favorite Instagram food feed photos come from Murray's Cheeses in New York. It's also one of my "go-to" websites to learn about this cheese or that dairy farm or how to make the most attractive cheese board. Be your family's MVP this season with Murray's Most Valuable Platter featuring terrific selections of some old and new favorite cheeses for your holiday or New Year's Eve table.
Cost: $145.00
---
Winter Essentials for Drinking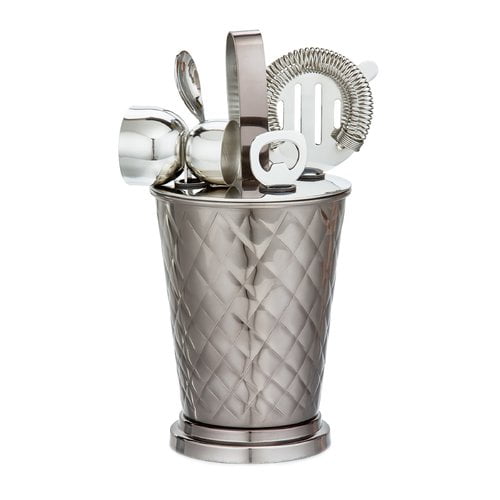 Time for a home bar upgrade? Here's a handsome set of tools in black mirror. It includes an ice bucket, bottle opener, strainer, double jigger, tongs and stirrer. Not only will you be the super-stylish bartender for your family and friends, you'll bring good "spirits" and fun cheer to the occasion.
Cost: $35.68
Whether you're a novice or expert home bartender, you are always looking for new ways to bring flavor and ingenuity into your cocktail. Look no further than Pratt Standard's craft simple syrups. With seasonal flavors like cranberry orange, earl grey, and ginger, your friends will think they're in the best bar lounge in the world with these inspired creations. It's as festive as it gets!
Cost: $12.00
Hot chocolate's not the only thing you'll be drinking this season; along with all the boozy classics, you'll still want to sip on your morning coffee and tea (or as I like to call them, peppermint coffee and cinnamon tea…mmmmmmm). If you're anything like me, you have a pretty consistent record of burning your tongue with every first sip or chickening out and taking the water off before it's reached full boil, resulting in a lukewarm cup — yuck! Luckily, there's now a cup smart enough to maintain whatever temperature's perfect for you: the Ember Mug. Just set your desired temperature and enjoy it for up to 1.5 hours. Packaging will even include your very own charging coaster for your mug's built-in battery!
Cost: $179.95 (for travel mug)
Ever wanted to learn how to craft those cocktails the fancy bars and restaurants serve? Look no further than the gift of a Mixology Certification without leaving your laptop or tablet. This professional mixology class with a lifetime membership and access will provide you techniques for creating syrups, bitters and other creative processes to perfect each cocktail. The tests along the way will challenge your skills and give you a sense of accomplishment. You'll be an instant hit with your friends, family, neighbors — and all those who enjoy a professionally inspired cocktail.
Cost: $149.00
Now that you've found the perfect mug, you'll need the perfect coffee to fill it up inside! Just in time for the snow days ahead, Detour Coffee Roasters have released their 2020 Holiday Blend. This limited edition brew blends beans from Costa Rica, El Salvador, and Guatemala and boasts "warm pastry-like aromatics [and notes of] marzipan, candied orange, and ginger snap." YUM.
Cost: $20.00
Now, there's hot cocoa. And there's hot cocoa. Distinction? Alcohol. There's all different ways to booze up your cup, but few are better than the Mexican method, more specifically, Mexican hot chocolate. Usually containing the typical coffee ingredients plus evaporated milk, cayenne or chili pepper, semi-sweet chocolate, and cinnamon (lots of cinnamon), this is sugar and spice and everything nice all in one steaming, glorious cup. "But where's the booze", you ask. Luckily, Brooklyn Brew Shop's got the answer in the form of their Mexican Hot Chocolate Beer Making Mix. The mix contains one gallon's worth of stout mix, hops, a cinnamon stick, dried chili pepper, and yeast. Like regular hot chocolate only so much better. Christmas "Cheers!"
Cost: $16.00
We may not be able to make it to the bars this New Year's Eve, but you can bring the bar to you with a custom neon sign from MK Neon. They create signs for all occasions and settings, but this year they'll be essential for setting the mood on the biggest party night of the year. Admittedly, NYE is one of the more depressing holidays to spend at home; it just feels like a night that should be filled with so much excitement and carefree jubilation, which is difficult to recreate with a TV and sofa. If you're having a hard time imagining how you'll turn your living space into the New Year's party spot of the century, this fun beer sign will do all the transforming for you. There are 11 color options to choose from, so all you have to do is hang it up, BYOB, and toast to the New Year!
Cost: Variable on sign customization
---
Winter Essentials for Working
Baby, it's cold outside. And nothing keeps you toasty quite like a cashmere sweater. Pura Cashmere is a brand new retailer that bills itself as offering the highest quality cashmere at direct-to-consumer prices, like this relaxed crew sweater which boasts a super-flattering fit.
Cost: $125.00
One of the most productive things you can do for yourself is create a work-from-home space that you actually want to be in. Unfortunately as grown-ups we don't get long winter school breaks anymore, and the work still needs to get done after Santa leaves. (#adulting) Dreading your WFH office is a great way to ensure those deadlines go unmet. Spruce up your space with the smells of the season; Paddywax's Cypress Fir candle is the next best thing to sticking your head straight into your Christmas tree. With a beautiful colored glass vessel in white or green and notes of berries, mistletoe, and pine, this candle will have your workspace feeling like Santa's workshop!
Cost: $20.00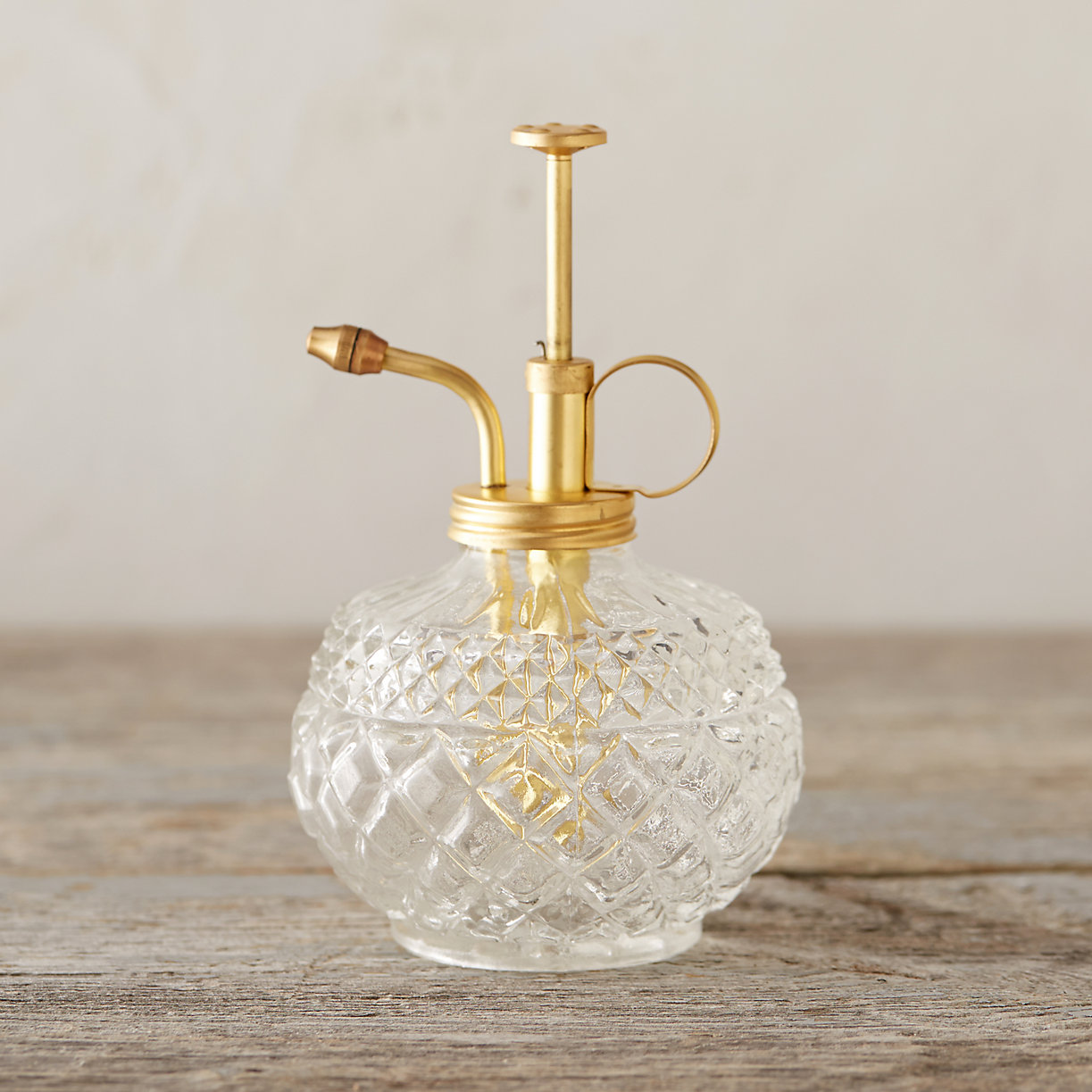 All of us likely have a house plant or five, especially in our home office where we need an occasional smile and a friend to brighten our days. Feel a bit extra fancy when it comes to watering them with his cut-glass plant mister. Terrain is a great site for more plant and flower ideas for your gardening friends or for "sprucing" up your own terrain at home.
Cost: $16.00
Around the holidays our minds are usually on anything but work; meals, presents, (virtual) parties…there's too much to account for, and it's not uncommon for our workspaces to reflect that. Make sure you stay organized and efficient this year with Go Forth Goods' Leather Charging Cable Roll. With so much of our lives occurring online these days, it's vital to keep all your devices charged and ready to go at a Zoom call's notice. The roll comes in three colors. And it is backed by a lifetime guarantee – now that's what I call a Christmas miracle!
Cost: $75.00
If there's one thing I don't want for X-mas, it's COVID. For those of us who are still required to leave our homes for work, there is added pressure to the job. While disposable masks do the trick, they can get a little boring (and uncomfortable on your own skin) after a while. This holiday, spread cheer, not COVID, with the bright and beautiful Teca Cotton Face Mask from Cotopaxi. They'll keep you and your coworkers safe. The masks are reversible. And with your purchase, Cotopaxi will give a mask to someone in-need through their partner charity, Mercy Corps. It's a gift that keeps on giving!
Cost: $13.00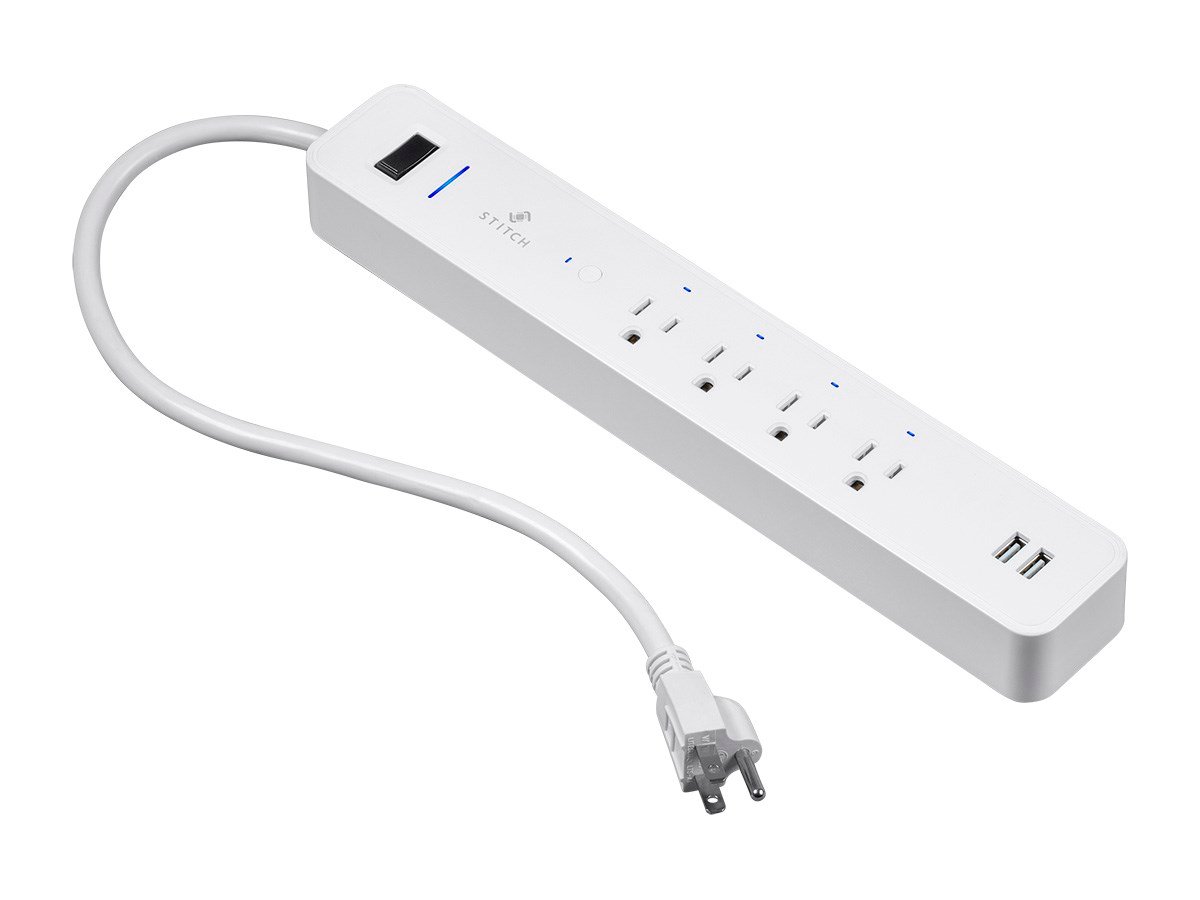 Another cool and super useful cord management tool is this wireless smart powerstrip from Monoprice. This handy dandy gadget will provide simple 24/7 remote monitoring and control of your home and office appliances and electronics directly from your Android or iOS smartphone or tablet. Never worry again about whether your devices are on or off. Or create a schedule to simply your daily routine with automatic on and off switches. Now that's smart!
Cost: $29.99
Have a teenage daughter that spends oodles of hours in the bathroom with make-up or primping? Then this double-sided vanity mirror is the gift for them. It includes "normal" make-up mirror features like LED lighting with low and high settings, magnification, and a battery-saving timer. But wait, there's more! It also has a built-in microphone, USB port, and Bluetooth capability for their mobile device. As if that's not enough, with a simple "Alexa" prompt, they can hear their favorite dance music as they're enhancing their facial features. The downside? With their eyes glued to the mirror, they may see more of themselves than you do!
Cost: $105.99
---
Winter Essentials for Playing
I belong to a book club. Do you? Ever wonder what a book club's aroma is? Well, wonder no longer with this Book Club Candle from Homesick. Light it and aromas of nutmeg, amber and sandalwood will fill the room. I'm imagining a Ernest Hemingway book in one hand, and a rum drink resting on the nightstand. This is an excellent gift at any time of the year for your book club friends. Or perhaps it would be fun for this to accompany a new read bestowed to a friend young or old. I think Hemingway would approve, don't you?!
Cost: $34.50
Not to imply that fire is something to play around with, but sitting around a fire with a cozy blanket and holiday music playing in the background is basically the dreamiest part of winter. The only thing that's not so fun is lugging around firewood. It's heavy, you can get splinters, and the wood debris is definitely going to get all over you and your floor. Simplify your life with a Log Carrier from the experts at Brant & Cochran Axes. The thick, handcrafted leather straps and durable outer-shell mean business, so you can get back to playing.
Cost: $95.00
The holidays are amazing for so many reasons, but growing plants usually isn't one of them. Though there are several species you can harvest throughout the winter months, the most common herbs and vegetables used in holiday cooking cannot. If you're interested in growing your own greenery despite the snow and ice, try a Hydroponic Mason Jar Kit! Assembled by all-female owned Coco and Seed, your kit will give you everything you need for the indoor garden of your dreams. You help with the sunlight and water!
Cost: $17.50
Snuggle in tight — don't let that winter wind bite, with a Cozi Throw from Johanna Howard Home! Featured on Oprah's Favorite Things 2020 list, this reversible gauze blanket is made from ultra-warm wool and squishy cotton for extra snuggly goodness. It comes in nine beautiful pastels and is machine washable, so it's as convenient as it is cozy. A good throw is a wintertime necessity so it's a perfect gift for a loved one (or yourself)!
Cost: $175.00
Keep all things merry and bright with your very own HappyLight! While the holidays usually feature light shows of their own (in the green and red variety), our hours of sunlight are greatly reduced. It's common for people to begin feeling lethargic and fatigued come winter. Much of this is due to the lack of full-spectrum light we receive. Light therapy is an innovative tool, used to mimic sunlight and therefore restore it's health benefits to us. Verilux's HappyLight provides UV-free indoor "sunshine" that features four brightness levels and three color temperature options. For a more regular sleep schedule, natural mood-booster and energizer this holiday season, let the light shine in!
Cost: $49.99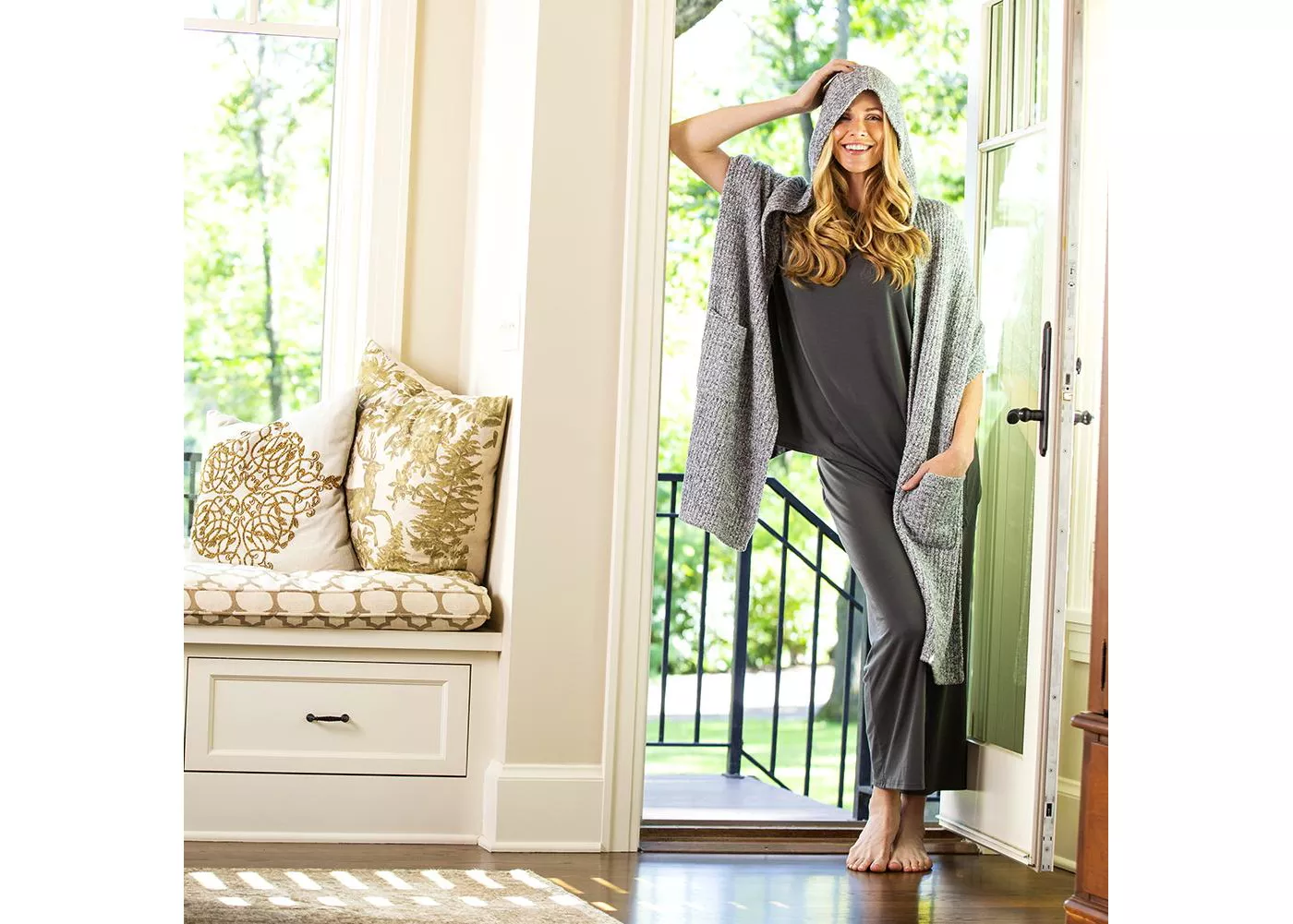 Stay warm and stylish at the same time with this Softies Women's Hooded Marshmallow Scarf. It's one of those things you'll say: "I wish I had thought of this!" A hoodie, a scarf, and a sweater — with pockets! What more could a winter woman on the move (or at home) want to make this season more comforting?!
Cost: $70.00