Gratitude is the inward feeling of kindness received. Thankfulness is the natural impulse to express that feeling. Thanksgiving is the following of that impulse.

Henry Van Dyke, American Author
Well folks, it's that time of year again and one I personally look forward to each year—and maybe this one more than ever. It's one perfect day devoted to nothing but eating, drinking, and spending time with loved ones. It may look a little different this year with less family around the table, but someone's still gotta eat those pumpkin pies (and cheesecakes). I'll be darned if it isn't going to be my family!
If there ever was a time for Eat. Drink. Work. Play. Essentials (emphasis on the "Eat."), it's Thanksgiving Day. With everything from make-up to mugs, this edition of "Essentials for Thanksgiving" will make you glad you came—and maybe wish Thanksgiving last longer than one day!
Happy Thanksgiving!
---
Essentials Thanksgiving Eating
Apple pie is an iconic treat for almost every American celebration from the Fourth of July to, well, um, whatever day of the week the craving hits you. Perhaps the most satisfying place to see a freshly baked apple pie, other than the end of your fork, is the middle of your Thanksgiving table. And there's no better vehicle for the caramelly, gooey goodness than this Le Creuset apple pie dish from Sur La Table. #PiesBeforeGuys
Cost: $39.96 (currently on sale)
And speaking of pies . . . . Making pretty pie crusts have always been a daunting baking adventure for me over the years, and now I have found the perfect helpful tool for that perfect pie crust edging. If you make pies, then Williams-Sonoma's silicone perfect pie crust mold is for you . . . and me! Form five decorative designs, like the pearl, braid, rope, herringbone or basket weave, into this great little mold, and it's as easy as 1, 2, 3. Bake the world a better piece. Cost: $16.95.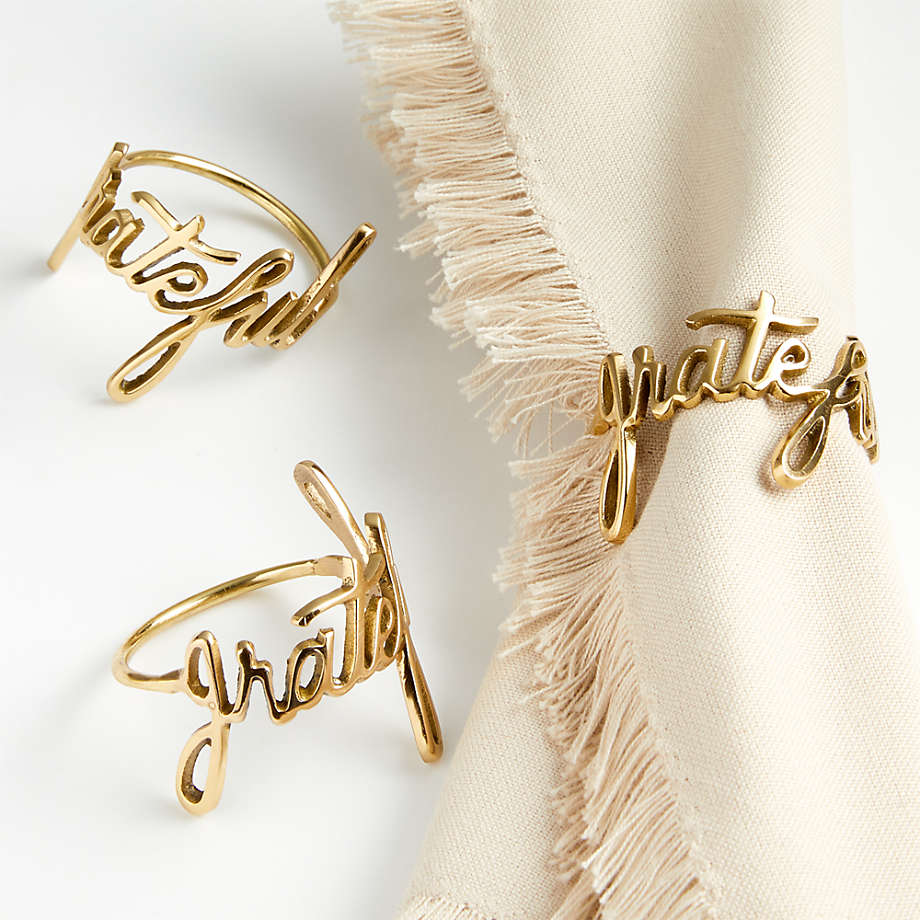 You may be wondering what these cute and seasonal rings are doing in the "Eating" section, but they're not the simple accessories they seem to be. This Thanksgiving, give your dinnerware some bling with these Grateful Napkin Rings from Crate & Barrel. Cost: $4.95 each
Who doesn't just love a loaf of pumpkin bread?! Here's one indulgence that won't feel like an indulgence. All ingredients in Foodstir's Chocolate Chippy Pumpkin Bread are ethically-sourced, junk-free and has the essential fall flavors of pumpkin and chocolate. Directions on the box include ways to make it for plant based/vegan alternatives. Now that's something gourd! Cost: $5.99
Is gravy a carb? I don't think carbs count on Thanksgiving. Gravy is an essential at any Thanksgiving spread. What's a Thanksgiving dinner without it? These vintage gravy boats from Food52 are all about paying homage to our saucy friend and giving life to your festive holiday table. Each item is hand-picked from France and created using a centuries-old technique that requires an inked design that is hand-pressed onto the ceramic item. It's all groovy gravy, baby! Cost: $85.00
There are going to be a lot of goodies coming out of your oven this Thanksgiving, and there's no better way to protect your hands and sweeten your kitchen decor than this autumnal-chic potholder and tea towel set from Bed Bath & Beyond. It makes a sweet hostess gift. Or treat yourself; you deserve it, pumpkin! Cost: $17.99
Often times, the holidays are stressful, and especially so if you are the one planning and hosting the perfect gathering. We all want to be the Barefoot Contessa, and despite how many times she tells us it's easy, it really isn't always that simple. Setting out pretty little things for all to see, like this festive burlap table runner at Etsy, reminds you and your loved ones that there is so much to give thanks for! May your hearts be as full as your stomachs this Thanksgiving! Cost: $14.50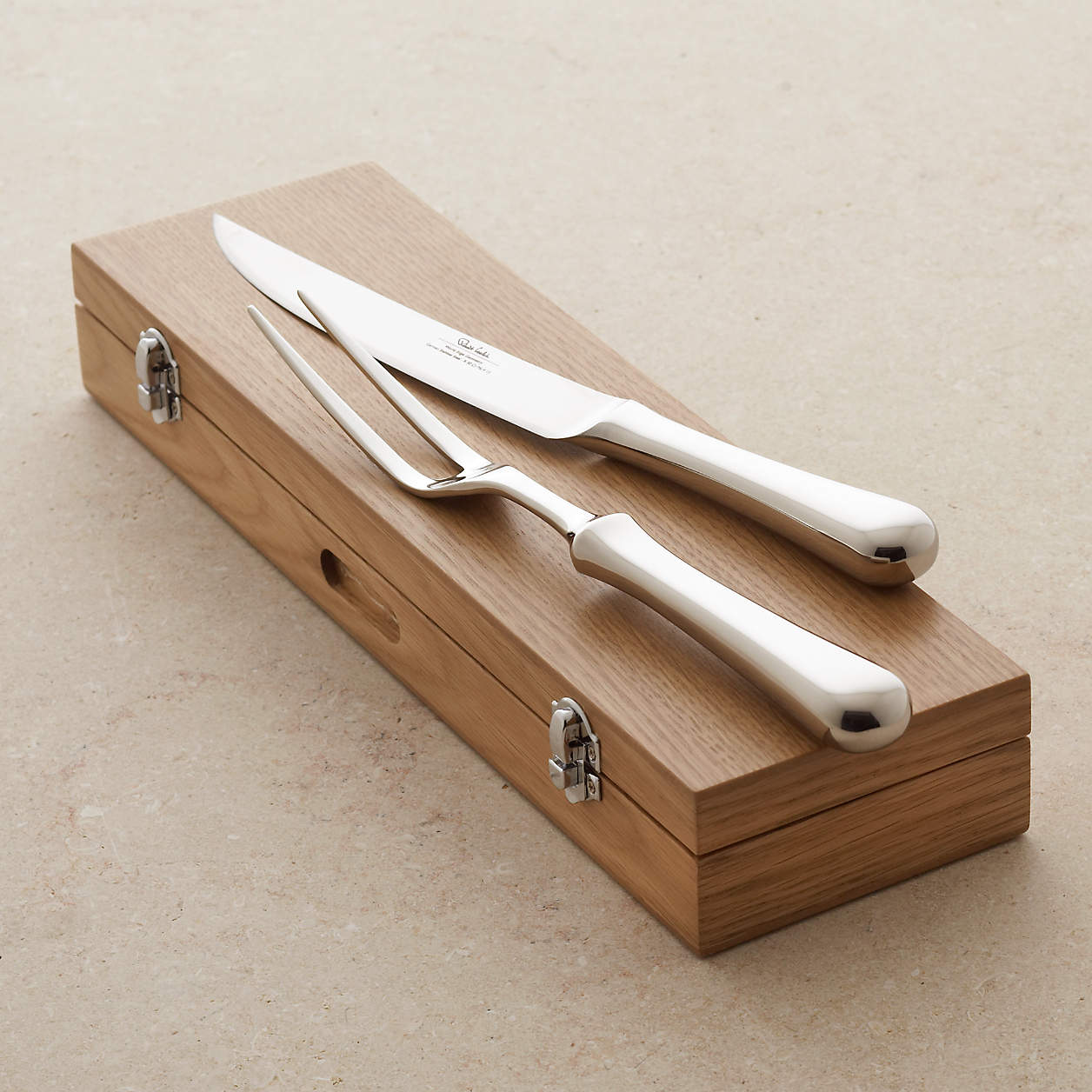 As Joey from "Friends" said: "You can't have Thanksgiving without turkey. That's like the Fourth of July without apple pie and Friday night without two pizzas." And there's "A man without a knife is a man without a life." So, let's have the gentleman of the house take center stage with this Caesna mirror 2-piece carving set, which is sleek, simple, and perfect for all of your carving needs. He'll feel like the star of the dinner table, but we all know better. "wink" Cost: $129.95
Nobody loves pumpkin like Maggie Michalczyk, which is why she created the popular Once Upon a Pumpkin blog, followed up this summer by The Great Big Pumpkin Cookbook: A Quick and Easy Guide to Making Pancakes, Soups, Breads, Pastas, Cakes, Cookies and More. The book boasts plenty of recipes like pumpkin mac-and-cheese and pumpkin snickerdoodles, but also a list of 25 easy ways to cook with a can of vitamin A- and antioxidant-loaded pumpkin puree, including in quesadillas, deviled eggs, pasta sauce and "nice" cream. Cost: $16.19
---
Essentials for Thanksgiving Drinking
There's a lot you have to do to prepare for a Thanksgiving meal, and sometimes it's flat-out tiring! Get your caffeine fix and be inspired by the flavors of the season with A Southern Lifestyle Co's Pumpkin Spice Coffee all in one cup. It's like a liquid pumpkin pie! Perk-up, baby! Cost: $14.99
Whisky pairs well with any crazy family, and these whisky stones from Gentleman Farmer will lovingly pair with your favorite scotch served neat. Because the stones are non-porous and thus odorless and tasteless (unlike ice), they will chill your spirit without affecting its smooth flavor. And they will keep it chilled longer than ice. On Thanksgiving, perhaps more than the cranberry will get sauced. Cost: $20.00
I'm thankful for wine—every week of the year. For my fellow red wine lovers, you already know that Pinot Noir and turkey are a match made in heaven. Try the romantic flavors of this 2017 Domaine Drouhin 'Lauren' Pinot Noir with hints of sweet cherry, pomegranate, baking spicy, ripe blackberries, wild herbs and fresh sage. Paired with your turkey and classic side dishces, your family won't know whether to eat more or drink more. Happy Winesgiving! Cost: $75.00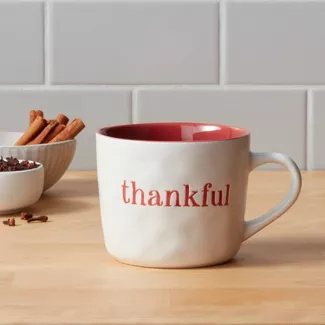 As long as we're talking drinks, we have to mention Target's seasonal drinkware, like this "Thankful" mug. From your morning coffee to your evening boozy cider, this mug will carry it all and in festive flair. Light up your hostess' face with a mug or two, especially when paired with the Pumpkin Spice coffee. She will be THANKFUL! Cost: $5.00
Are you thankful, blessed and coffee obsessed? It's been said by more than a couple of my friends that the best tasting cup of coffee comes from a coffee press. Aeropress is among the finest products dedicated solely to perfecting that idyllic warm beverage that will sing off your tongue. Don't fret that the Thanksgiving travel to Aunt Millie's will be a caffeinated drought. Pack your travel press and some beans, and voila, Aunt Millie's quaint kitchen will be smelling a swanky Paris cafe. Mon plaisir! (My pleasure!) Cost: $31.95
When they're feeling more stuffed than the turkey and are convalescing their food coma—you the hostess with the mostess—are already thinking about dessert. The day has been decadent with rich and luxurious eats and drinks, so why not keep it going with these boozy caramel sauces. Whatever your dessert tradition, everything goes with caramel, especially when infused with single malt whisky or aged rum. So, have a quiet moment to yourself and celebrate the beautiful day. After all, a happy heart is a grateful heart (especially with a dollop of caramel). Cost: $28.00
Ever mix up your glass and accidentally take a swig from a family member's wine instead? It's never been more important to keep your germs to yourself and with these cute magnetic glass markers from Simply Charmed, you can mark your territory with ease. With enough in the pack for 7 glasses, there will be plenty for everyone at the dinner table. Or mayble get more; the kids will feel part of the adult party too. Cost: $16.99
---
Essentials for Thanksgiving Working
Let's face it: the holidays are stressful! Whether you're overwhelmed by family or preparations for your Thanksgiving feast (or both), it can be incredibly hard to focus on work when there are so many things that demand your attention. Aromatherapy has become popular for its restorative benefits and the folks at Monq have developed therapeutic air pens for every mood under the sun. The Pumpkin Spice Pen includes several warming botanicals that will calm you down so you can get to the grocery store or that next Zoom call refreshed. Cost: $20.00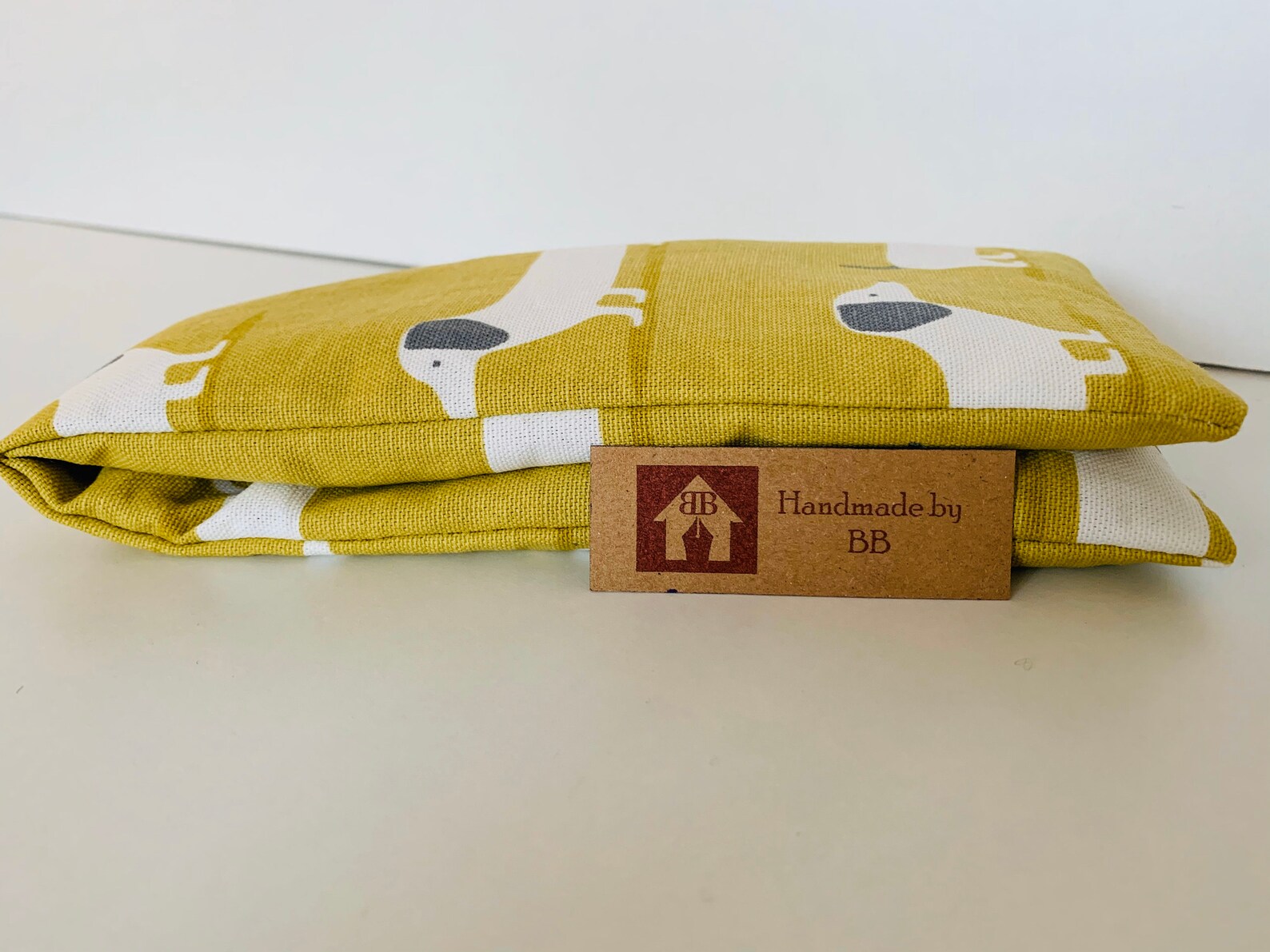 Fall is the time of year when we either want heat or cold. Sometimes we get one when we want the other. With this aromatherapy heat pack or cold pack, you can have whatever you want whenever you want it. Filled with dried lavender seeds and organic wheat, these lovely neck wraps will soothe all of your work-from-home aches and pains. Available in a variety of colors and styles. Add this to your to do list: eat, drink—and nap! Cost: $20.19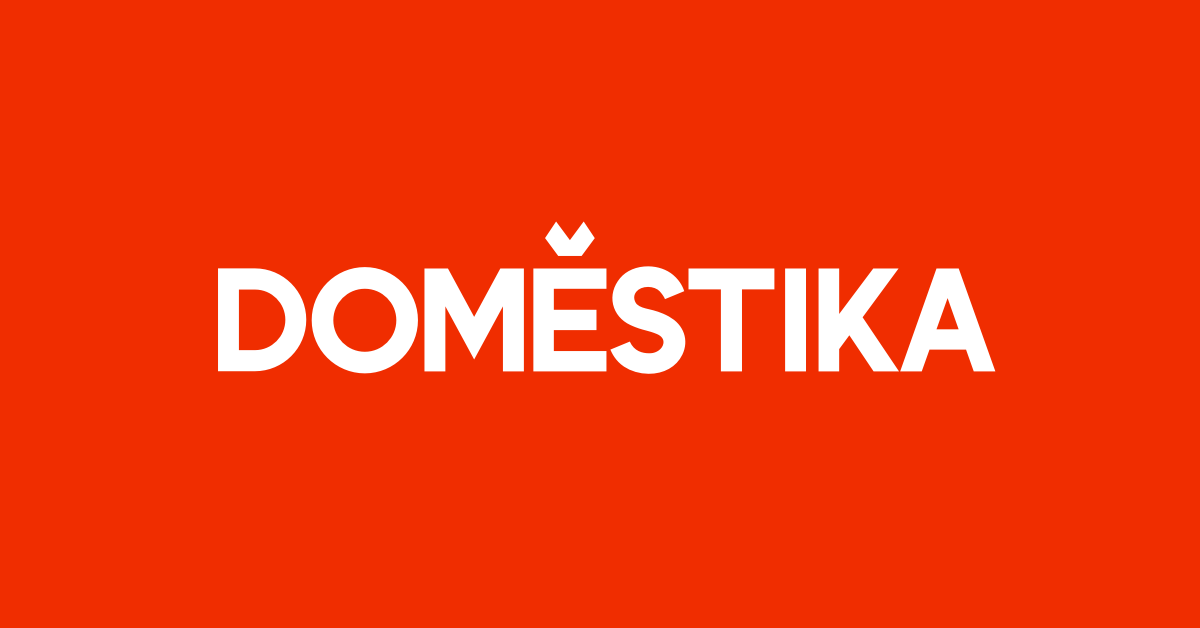 Whether we believe it or not, there's a creative streak in all of us; it just needs to be untapped from time-to-time. Domestika is just the vehicle to get those creative juices flowing. Whether you're into interior design or want to hone your Adobe Photoshop skills, or get a crash course in building an Instagram business, look no further. Your creative thanks you for this season gift of learning! Cost: Variable; $10.99 for the Intro to Adobe Photoshop
Here's to another corny Thanksgiving saying. It's the gift that keeps on giving with this felt letter board. Change up the messages daily or weekly. Be inspirational in your office, snarky in the kitchen and sassy elsewhere. Your holidays and work days just got a lot more fun! Cost: $20.99
Keeping track of deadlines and work responsibilities can be even harder at home, so give yourself a visual reminder that time is the key to productivity. Mentally, it is also very important to make your work-from-home space as comfortable and aesthetically pleasing as possible. Accomplish both by bringing the spirit of thanksgiving into your home office with Rae Dunn's Pumpkin Clock! Cost: $20.00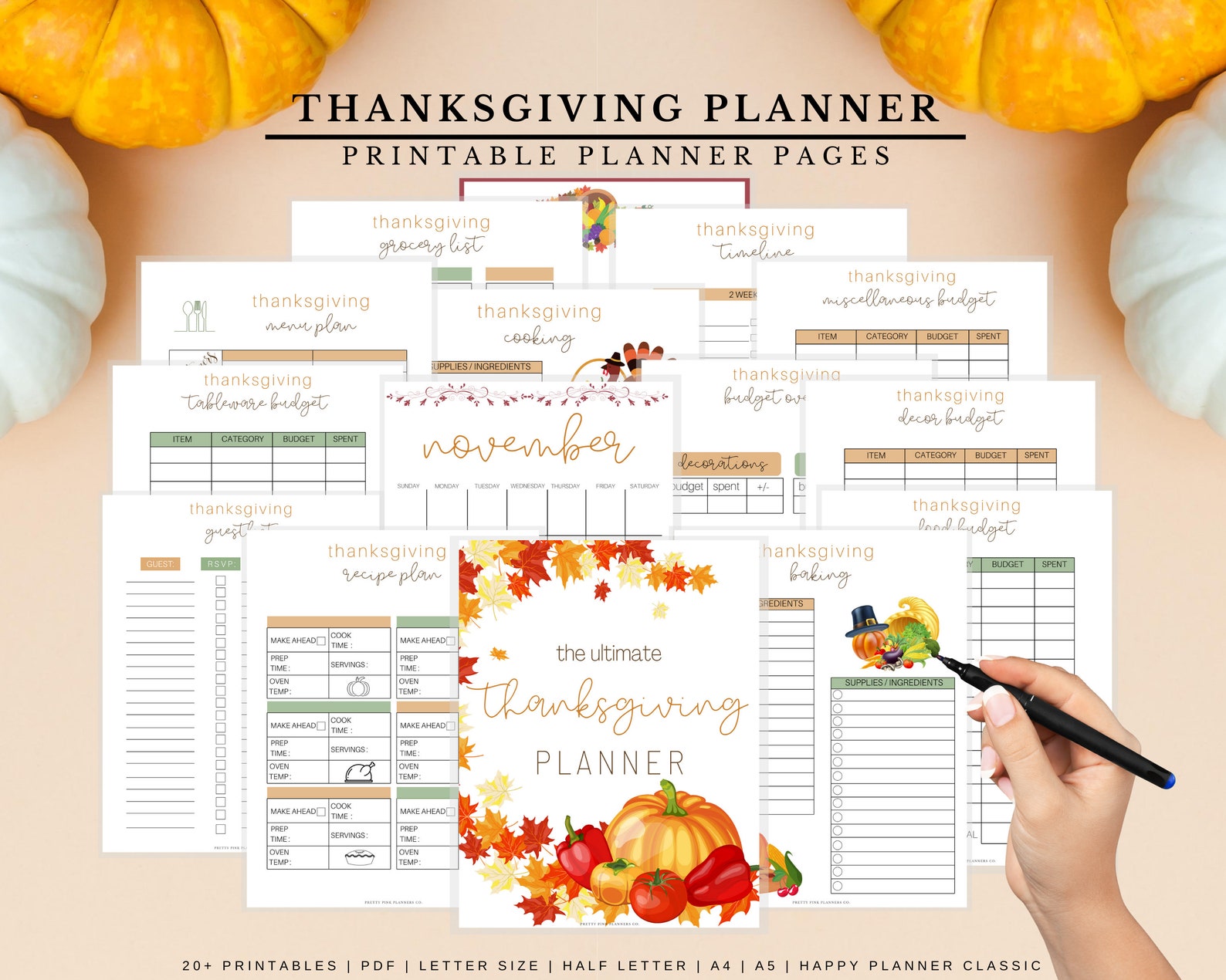 Make no mistake: planning for any holiday is work. Make life easier by staying organized and efficient with this printable Thanksgiving Planner on Etsy. With these cute and festive pages, you can effectively lay-out your holiday budget, dinner menu, recipe plans and so much more. With several different sizing options, there's a format that's perfect for every Thanksgiving dinner—big or small. Cost: $1.20 per page; downloaded
Studies have shown that exposure to warm yellow light can positively affect energy levels, leaving you more alert and ready to work! Fill your workspace with the Thanskgiving glow by grabbing this Autumn Light Tree on Amazon. It's practical, beautiful and festive—just like YOU! Cost: $24.99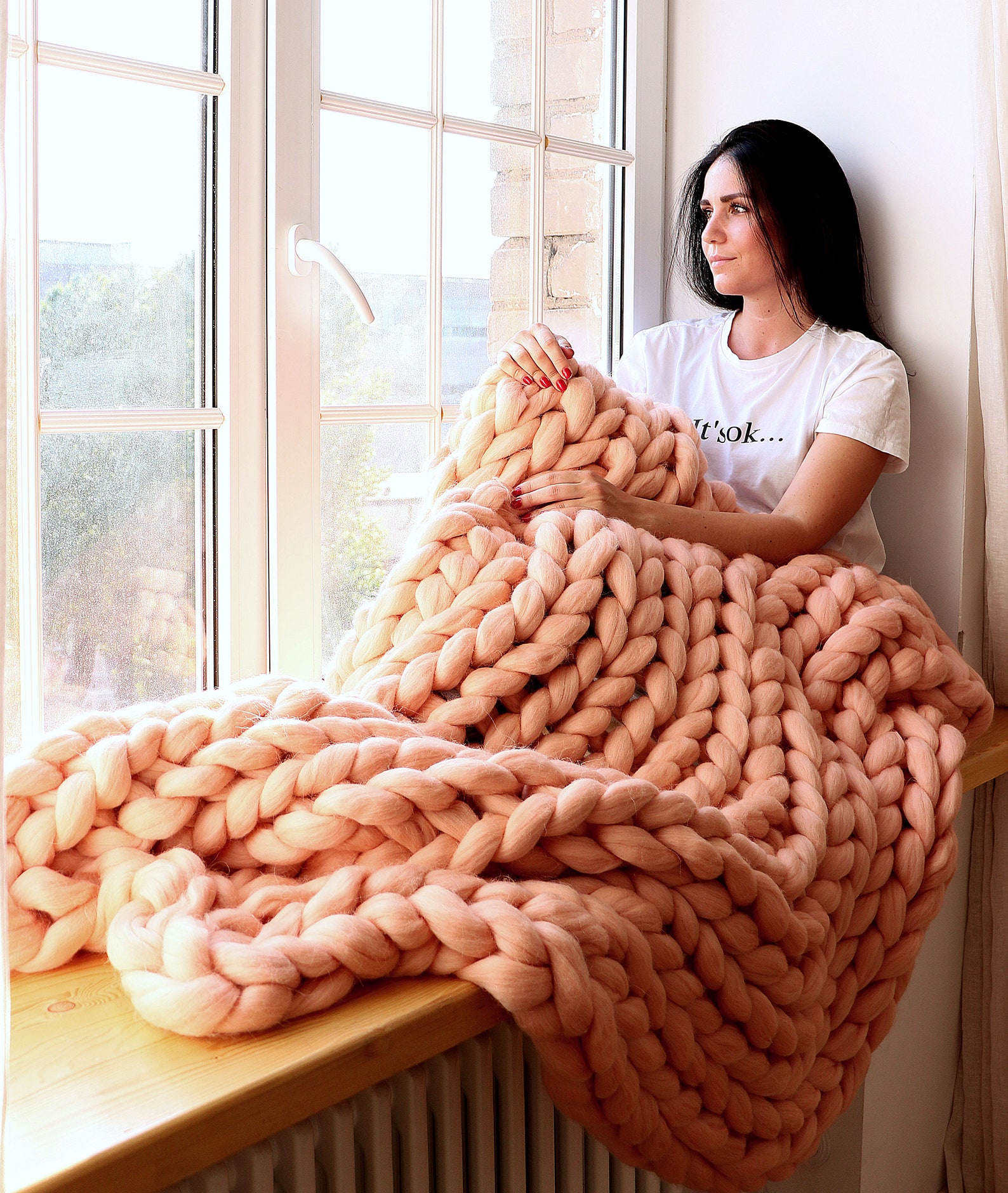 Here's a personal treat for yourself that doesn't involve eating or drinking. Well, maybe it does if you need a nap after Thanksgiving indulgences. Weighted blankets are proven to be a great elixir for anxiety, stress, and sleepless nights with their "deep pressure stimulation." Feast your eyes on Bearaby's weighted blanket! They are more unique than other brands with their super-heavy "yarn" which makes them way cooler than other weighted blankets, yet still keeps you warm and enveloped. This will take your naps into a whole new dimension. Cost: $249.00
---
Essentials for Playing
We can't talk about "play" without adding a game into the mix. Clean plates, full stomachs, you can't lose. While everyone is still happy and enjoying family, it's time for "Hygge" game. The 300 questions will entertain and engage everyone in thoughtful and interesting conversation.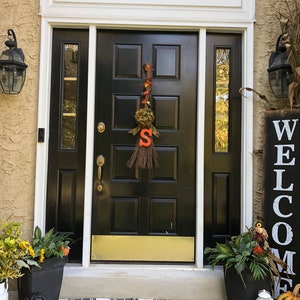 One of the greatest aspects of Thanksgiving is the myriad of autumnal-spiced smells that accompany the season. There's nothing like the cozy scent of pies in the oven or backyard fires burning somewhere in the distances. Now, you can fill any space in your home or front door with the warm sweet smells of the Thanksgiving season all year long with your own customizable Fall broom wreath. Cost: $55.00
Is it ungracious to say you're sick of hearing about gratitude? While we love the concept — and practice it — it's also become of bit of a buzz word thrown around without much thought. But author A.J. Jacobs really took the concept to heart, launching a journey to thank every single person involved in producing his morning cup of coffee. The result was "Thanks a Thousand: A Gratitude Journey," which describes his wild quest and fully fleshes out how gratitude can make us happier, better people. Cost: $12.99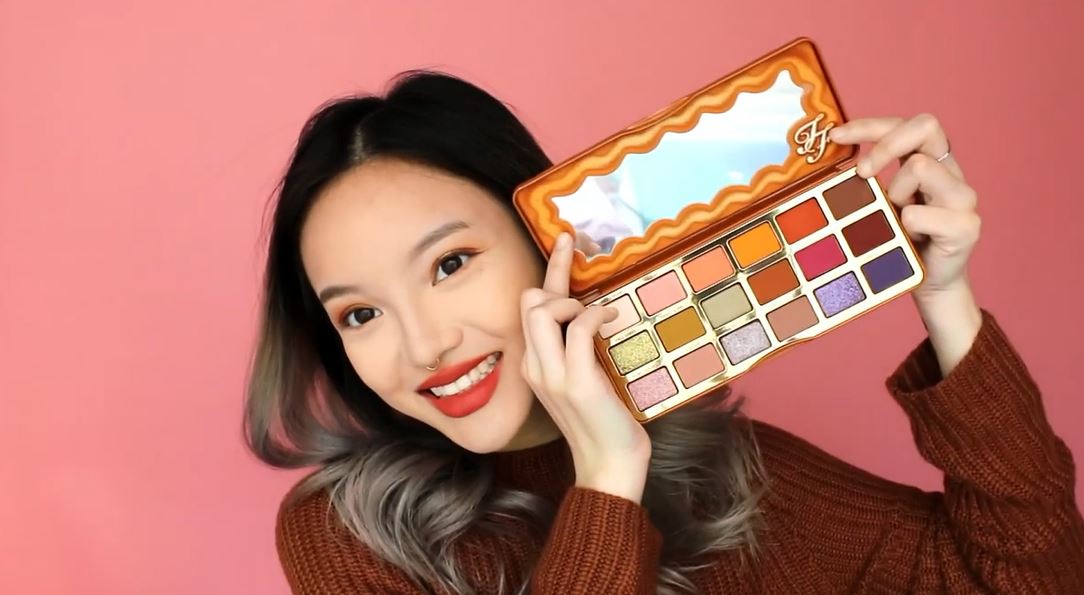 Holidays are a great excuse to dress up and if your quarantine has been anything like mine, having a reason to put on make-up is thrilling at this point. Heat up your life and your Thanksgiving dinner look with this Pumpkin Spice eyeshadow palette from Too Faced. There's a good mix of traditional fall colors and spicy metallics so your look can be as versatile as your menu! Cost: $49.00
Everyone will love what you wore to the living room (and to the table) this year. This cable knit sleeve turtleneck from Naadam is stylish, cozy, and sustainable. Naadam is known for being the world's fairest with cashmere by believing in sustainable treatment for their associates, animals and the plant. And we love the loose look which leaves room for that second helping of dessert! Cost: $215.00
Sometimes you just can't make it home for the holidays (especially during a pandemic). If you've found yourself in charge of Thanksgiving dinner for the first time, or you don't know what to contribute to a Thanksgiving meal you've been invited to, this clever handbook is your new Bible. Complete with 25 different recipes, table-laying tips and sweet illustrations, the Friendsgiving Handbook makes organizing Thanksgiving as easy as pie! Cost: $12.69