We do not get ice cream everywhere, and so, when we do, we are apt to dissipate to excess.

Mark Twain
---
I scream, you scream, we all scream for ice cream!
Like a little kid in a candy store, I walked up to the counter mesmerized by the various textures and the multitude of colorful hues of cold blocks of sweetness displayed before my big green eyes. The menu of curious flavors and creative combinations overwhelmed and tantalized my senses. What flavor would I pick?
Would it be Salted Malted Chocolate Chip Cookie Dough, Honey Lavender, Chocolate Gooey Brownie, or Strawberry Honey Balsamic with Black Pepper. One cannot rush these decisions. After much consternation and fanfare, the Chocolate Gooey Brownie was the lucky winner. When I finally got my first taste, my spoon fell from my lips, my taste buds exploded, and it was a joy that most people wouldn't understand. The moment was utter bliss.
The old world of ice cream shops offering basic vanilla, chocolate, and strawberry flavors has evolved into an artisanal avalanche of eclectic combinations. All across the United States, restaurant and pastry chefs are concocting new creations to tantalize our palate. As well, there are new neighborhood shops across the country who are redefining our ice cream imaginations. One such establishment is Salt & Straw.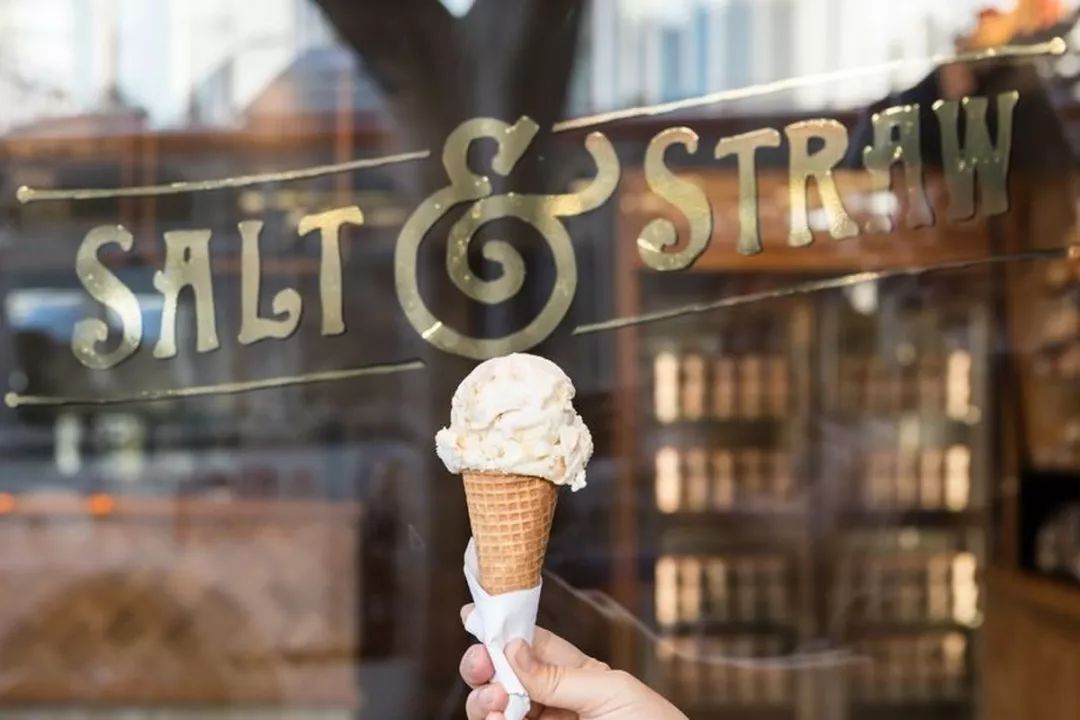 Salt & Straw's mission is to design "quirky flavors," and "curiously delicious handmade" ice cream. They do not disappoint in name or in flavor. On one visit last November at their location in San Diego's Little Italy, the "Thanksgiving Flight" was sampled.
Sit down, ladies and gentlemen: Salted Caramel Thanksgiving Turkey, Apple Cranberry Stuffing, Buttered Mashed Potatoes & Gravy, Sweet Potato Casserole with Spiced Pecans, and Spiced Goat Cheese & Pumpkin Pie. Now that's redefining creative ice cream flavors!
In honor of National Creative Ice Cream Flavor Day on July 1, I am featuring Salt & Straw's "Carrot Cake Batter Ice Cream with Pralined Hazelnuts."  
Ice cream is one of those treats that is relatively easy to make. Procure quality ingredients as you don't want to scrimp with these recipes, including vanilla paste (rather than standard vanilla extract). My cooking mantra is to "always follow a recipe completely the first time you make it," and with ice cream, it's so incredibly important. The steps of cooking, chilling, and churning are sacrosanct to the perfectly flavored ice cream.
If you like carrot cake, you'll love this ice cream combination! Between the creamy ice cream base, the roasted candied carrots folded in, the liquid cheesecake that's then layered onto the ice cream, and the topping of toasted hazelnuts . . . .oh. my. goodness!
I've made many ice creams and sorbets. Some are easy, and some more time-consuming. I won't kid you; this one is almost a two-day, multi-step process. However, if you're the experimental type in the kitchen, I promise you the steps to this recipe will reward you with a mind-blowing dessert! 
Thank you, Salt & Straw, for your inspiration and all of your wonderful goodness!
CARROT CAKE BATTER WITH PRALINED HAZELNUTS
Preparation Time:  4 hours
Yield: 2 pints
Preparation
3 cups Ice Cream Base (see below)
1 tablespoon ground cinnamon
1 teaspoon kosher salt
1 teaspoon pure vanilla extract
2-1/2 cups Liquid Cheesecake (see below)
2 cups Hazelnut Praline (see below)
Put the Ice Cream Base, Roasted Candied Carrots, cinnamon, vanilla, and salt into a bowl and blend using a stick blender until carrots are broken up and evenly dispersed.
Pour mixture into an ice cream maker and turn on machine. Churn just until the mixture has the texture of soft serve, 30 to 40 minutes, depending on the machine.
With machine running, add Hazelnut Praline until folded into your ice cream.
Transfer ice cream into freezer-friendly containers by spooning a layer of the ice cream, then dolloping about 1 tablespoon of the liquid cheesecake into a spiral. (Ideally each scoop has a perfect ratio of ice cream to cheesecake.)
Cover with parchment paper or a lid, pressing it to the surface of the ice cream so it adheres. Store ice cream in the coldest part of your freezer (farthest from the door) until firm, at least 6 hours.
Ice cream will keep for up to 6 months.
Ingredients ~ Ice Cream Base
½ cup granulated sugar
2 tablespoons dry milk powder
1/4 teaspoon xanthan gum (available on Amazon; promotes thickness)
2 tablespoons light corn syrup (or agave nectar)
1-1/3 cups whole milk
1-1/3 cups heavy cream
Combine sugar, dry milk, and xanthan gum in a small bowl and stir well.
Pour the corn syrup (or agave nectar) into a medium pot and stir in the whole milk. Add the sugar mixture and immediately whisk vigorously until smooth. Set the pot over medium heat and cook, stirring often and adjusting the heat if necessary to prevent a simmer, until the sugar has fully dissolved, about 3 minutes. Remove the pot from the heat.
Add the cream and whisk until fully combined. Transfer the mixture to an airtight container and refrigerate until well chilled, at least 6 hours, or for even better texture and flavor, 24 hours. Stir the base back together if it separates during the resting time. The base can be further stored in the refrigerator for up to a week or in the freezer for up to 3 months. 
Ingredients ~ For the Roasted Candied Carrots
1/4 pound large carrots, grated or julienned
1/4 cup sugar
1 tablespoon molasses
1 tablespoon organic corn syrup
1 teaspoon ground ginger
Pinch kosher salt
Preparation ~ Roasted Candied Carrots
Preheat oven to 350 degrees. Line a cookie sheet with parchment paper.

In a large bowl, toss carrots with sugar, molasses, corn syrup and ginger. Transfer to a large baking sheet and bake until carrots have completely softened and soaked up the sugar, about 20 minutes. Let cool to room temperature.
Ingredients ~ Liquid Cheesecake
Makes approximately 3-1/2 cups
1 cup cream cheese, room temperature
1/3 cup sugar
1/3 cup organic corn syrup
3/4 teaspoon gelatin powder
1 tablespoon cold water
3 tablespoons boiling hot water
1/4 cup sour cream
2 teaspoons vanilla paste
Pinch kosher salt
Preparation – Liquid Cheesecake
In a stand mixer with the paddle attachment, beat cream cheese, sugar and corn syrup until smooth.
In a small bowl, combine gelatin with cold water and let bloom, 1 minute. Add water to gelatin and stir until gelatin powder is dissolved. (Heat in microwave for 10-second increments, if necessary.)
With the stand mixer on low, drizzle gelatin syrup into cream cheese mixture and beat one more minute. Add sour cream, salt, and vanilla paste and beat until well-combined. Transfer to an airtight container and store in the refrigerator for up to two weeks.
Ingredients ~ Hazelnut Praline
Makes approximately 3 cups
1/2 cup sugar
1/4 cup brown sugar
4 tablespoons butter
1/4 cup milk
3/4 cup chopped hazelnuts
Pinch kosher salt
Preparation ~ Hazelnut Praline
In a small pot, combine sugar, brown sugar, butter, and milk. Heat on medium high, stirring frequently, until a candy thermometer reads 240 degrees.
Add hazelnuts and salt, and stir until hazelnuts are fully coated, approximately one minute.
Spread mixture onto a parchment lined baking sheet and let cool to room temperature.
Once cooled, crumble praline into 1/2″-sized pieces and store in the refrigerator for up to 3 weeks.