I grow plants for many reasons: to please my soul, to challenge the elements or to challenge my patience, for novelty or for nostalgia, but mostly for the joy in seeing them grow.

David Hobson, Author & Humorist
Can you relate to this? It's a stressful day and you just need a release. Do you ever just slide into the car and take a long drive? Or do you leave the house to take a long walk by the beach, in a park or through the trees? Take a long run or bike-ride to break a sweat and release some endorphins? Or even just go out in the backyard to tend to your plants and flowers?
During this crazy time in our lives, when we're more home-bound than ever before, I think many of us turn to nature to give us a boost. When I take a walk or surround myself in a beautiful park or garden, my mood is immediately uplifted. It's almost as if I can suddenly feel the weight being lifted off my shoulders, and a sense of calm rest in its place as I breathe the fresh crisp air.
Not all of us are fortunate to have large gardens or backyards where we can easily escape. Yet, there are ways we can bring that sense of calm and positive growth into our homes and our home offices. Having a few houseplants in the home can definitely bring an unconscious sense of balance to one's world. It is a proven fact that indoor plants make us happier and increase our concentration levels by 15%! After experiencing a year of pandemic fatigue and at-home offices, houseplants may deserve a medal of honor for helping us keep a few extra ounces of our sanity.
Whether you are a novice plant grower or one who can cultivate Instagram-worthy plants and flowers, plants will give you a feel-good buzz that keeps on giving day after day. For me, I know I'm happier when I see things around me that are alive—like a few succulents and flowering plants, and my sweet dog, Oliver. Seeing their growth can teach us a bit about our own personal growth as well.
Another positive benefit to having some plants around the house is that they're easy on the eyes. They're a design element to many rooms and nooks in your home, which add warmth and style in only a way plants can do. And no matter the color aesthetic that is the rage of the moment, a plant's green is always in style.
There truly are no hard and fast rules when it comes to decorating with plants, though there are thousands of possibilities. This brings us a multitude of options to celebrate January 10th—National Houseplant Appreciation Day—in Eat. Drink. Work. Play. style!
---
Houseplants for Eating
Bay Trees
Nearly every soup or stew calls for a bay leaf or two, which usually means we reach for our dried spices. Don't underestimate the power of fresh herbs, and the Bay Leaf is no exception! Aromatic, deep, earthy flavors will permeate any dish you prepare, making the Bay Tree a must-have. Plants from this grower start as 3-4 inch babies, and are very slow growers, so some patience is required. Fertilize them in the spring to encourage new growth and put them in one of the sunniest spots in your house.
Besides, you'll get to make recipes like this one. During the winter months, there's nothing more comforting than a warm bowl of soup or chili. This turkey and bean chili is not only a healthy option for your New Year's resolution dieting, it lasts for days and freezes well. Make life easier . . . . and tastier in 2021!
Turmeric
This is another herb we usually get dried from a bottle, though growing your own will add an extra flair to your next curry or smoothie. These plants like warm temperatures, bright light, and are gorgeous! Unlike most houseplants, this one will require replanting every 8-10 months because the stalks and leaves will yellow and brown, giving you the green-light to harvest! The Turmeric plant is related to ginger, and the harvestable roots look somewhat similar. Check out this guide to see how to replant your Turmeric.
1 Teaspoon of Dried Turmeric is equal to 1 Tablespoon of Freshly Ground Turmeric and has tremendous health benefits. Try some tumeric in this fresh breakfast scramble and start your day off on the right foot!
Rosemary
There are plenty of types of Rosemary out there, and they can't all be found at your local garden center, either. For instance, take a gander at this Rosemary' Prostrate,' which is a trailing variety! Imagine a Rosemary vine cascading down open shelving in your kitchen (or anywhere else in the house, for that matter). Since the plant grows down, that means you can put it up, leaving you even more room to expand your plant family.
If you have an air fryer and a family that loves fries, try adding some rosemary to your sweet potato fries. It'll liven the aromas in your kitchen, bring some health to your table, and brighten the smiles of your family. Another win-win!
---
Houseplants for Drinking
Lemon Verbena
No, we aren't talking about a Bath and Bodyworks Candle. The Lemon Verbena plant is easy to care for; leave it in indirect bright light and allow the first inch or two of soil to dry out before rewatering. Keep pinching it back to encourage it to be bushy, which means: making these drinks will make your plant bigger. Or, at least, that's how we like to put it.
Mint 'Mojito'
Yes, this herb is named after a drink. And there's a reason behind that: Did you know an authentic mojito can only be made with this herb? While most mints are cool and pungent, this one is mild and warm. Do you want a Real Mojito Recipe? We know you do! These plants are quickly grown in an indoor environment. They don't have to be directly in front of the window, making them perfect to put pretty much anywhere!
Basil
We can't talk about herbs and not address the king: Basil. Quickly grown indoors and in containers, this aromatic herb is an absolute winner for Eating and Drinking categories. Not sure how to make Basil into a tasty drink? Well, check out this bourbon basil lemonade. You're welcome.
---
Houseplants for Working
Pony Tail Palm
There's no better way to revamp your home office than with a new plant or two or five. These succulents are super low maintenance (that's right, they're not palm trees), making them perfect for office life. While they prefer bright light, you can always give them a "summer vacation." Place them in the sunlight during summer, and then enjoy them during the winter months in any nook-and-cranny you have to offer. They aren't finicky with lighting during their dormancy (fall-winter) compared to their growing season (spring-summer). So, if you're looking for some funky greenery in your dark office, a Pony Tail Palm might be right up your alley!
Elephant Bush
This tree-like plant is related to the Jade plant. These succulents are very efficient at soaking up radiation that our electronics put out, making it perfect for the office. Place them in a room with a window and water when the soil is super dry. If you're planning on watering once a week or every other week, it's probably too much. I have a couple of these, and they're durable and charming, just like an old friend!
Panda Plant
These guys are also known as a "Chocolate Soldier." How cute is that? If you need to 'Soldier-on' at work, a Panda plant can be the perfect companion. Place it near an office window, and this furry plant will be your friend forever. As with all succulents, you only need to water it once or twice a month.
Philodendron Burles Marx
If you have a bright window in your office, that should be plenty of light for this fast-growing plant. They are generally low-maintenance but do enjoy humidity, so it's best to have a mister or humidifier on hand. You'll enjoy watching a new leaf pop out every week or two! These babies require that they stay "barely moist," so whenever you feel that the topsoil is dry and crumbly, give them a drink!
---
Houseplants for Playing
Varigated Spider Plant
AKA: Curly! These Curly Spider Plants not only have a 'crazy hair' aesthetic but grow "pom-poms," which are plant-able, mini-versions of themselves. They're very resilient and don't require much attention. As long as you make sure they have very bright light and don't water them too often, you'll have a crazy-haired plant for life!
Tradescantia Bubblegum
Purple makes everyone happy… it's a fact of life! The Tradescantia Bubblegum/Lilac is no exclusion. These plants are super-fast growers, but beware! They are not people and pet safe, so don't ingest them or handle them without gloves. (They can cause skin irritation.) However, don't let the warnings scare you away. They are straightforward to manage, as long as you have bright light. Watering the soil-only is the best bet; if you spray water on the whole plant, the stems could rot.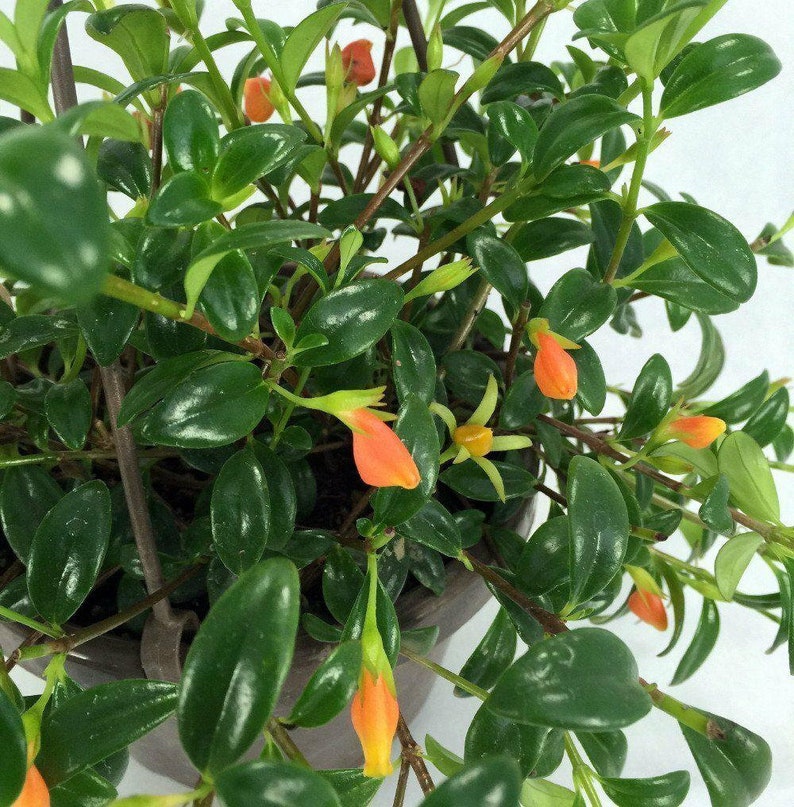 Black Goldfish Plant
This easy bloomer is low maintenance and an instant conversation piece with its dark, glossy leaves and bright orange "goldfish" flowers! Put this plant in front of a sunny window and water when the soil is dry. This plant grows in the Spring and Fall, so you have double blooming opportunities!
---
However you decide to commemorate National Houseplant Appreciation Day, we are sure they will help you live a more positive, productive 2021. And, if a few of your plants bite the dust, get up and try, try again!