People are really listening and want to consume all of the content that is there and available. There's a level of dedication that comes from podcast listeners that you don't otherwise find. And now the numbers prove it. Podcasts aren't a bubble, they're a boom–and that boom is only getting louder.

Miranda Katz, Wired
---
If you don't know about podcasts, or don't believe in the power and reach of podcasts, look no further than the news this past week that Spotify had purchased the enormously successful podcast, "The Joe Rogan Show." This positions Spotify as the biggest name in podcasting, and to potentially own the podcasting world moving forward. To put this into context, the Joe Rogan show has 190 million downloads per month. This equates to approximately $3M in revenue per month. According to Forbes, the Rogan show made $30M last year.
I stumbled upon the world of podcasts several years ago when my favorite Los Angeles DJs left the world of radio and independently started their own podcasts. Eight years ago, this was a new form of entertainment that many didn't yet comprehend, let alone embrace. Now, there are likely just as many podcasts out there as there are shows on Netflix.
By definition, podcasts are "a digital audio file made available on the internet for downloading to a computer or mobile device, typically available as a series, new installments of which can be received by subscribers automatically."
I listen to a wide-range of podcasts. For some, I've been listening for years and now genuinely feel a "relationship" with the podcaster. I look forward to our daily or weekly conversation as if we were family or close friends. Others are a series to which I binge feverishly, soaking in the story like I'm watching Season 3 of "Ozark." Yet other podcasts are more isolated and informative content that I can apply to other areas of life.
Podcasts are a perfect "entertainment vehicle" for long road trips, commutes, or for just listening when puttering around the house. They're easily accessible through your computer. Or if you're more mobile—regardless of whether you're an iPhone or Android user—several free apps exist to make access and subscription seamless, i.e., Spotify, Stitcher, RadioPublic, Castbox, etc. Still other podcasts have their own app which you can download directly to your phone. However is preferable for you, there are tons of options to make your listening easy and accessible.
Here are some of my favorite podcasts—in each Eat. Drink. Work. Play. category. There are so many, in fact, that I'll share more in future posts. I'm always looking for new ones, so please share your favorites with me. They might just become one of mine, too.
[Eat]
Home Cooking: If you watched the Netflix series, Salt Fat Acid Heat, you'll know how engaging the host, Samin Nosrat, is. She makes you feel immediately comfortable in her midst. And you'll feel the same way with her podcast as she helps you figure out what to cook, while keeping you company. (And if you haven't watched her Nextflix series, I highly recommend that too.)
I admit it's hard to listen to a podcast about cooking and the components of recipes. However, when you stir the ingredients of food conversations with some vibrant pours of cultures and cuisines, mixed with engaging guests and an intelligent host, you have a recipe for a tasteful listen. Check out The Splendid Table podcast. It's a table at which you'll want to pull up a weekly chair.
When you sit at a real kitchen counter, it's a place where you learn, talk, watch, and have fun. Listening to the The Kitchen Counter podcast is no different. The mission here is just to draw people into the kitchen and cook good food. It doesn't have to be complicated. This one is all about the fun. Don't we all want that?!
[Drink]
Imagine that you could invite some of the world's famous winemakers to join you at the kitchen table of your tiny apartment for a conversation about their lives, their land, their vines and well, their wine. Well, you can do just that by listening to I'll Drink To That. Levi Dalton is an experienced sommelier in New York City. His most recent guests include: Christophe Roumier of Domaine George Roumier in Burgundy and Christopher Howell of Cain Vineyard in Napa. This is a "winecast" worth its weight in grapes.
The Virtual Pub is not so much about the drink. It's more about a conversation with some British blokes. Listen to their banter about society and culture, current events, technology. Oh, and the conversation is had while they consume a couple of beers. Cheers Mates!
Just like famous winemakers, no one knows their products better than those who make them. In The Spirit Guide Society Podcast, you'll learn everything you ever wanted to know about Jack Daniels. Or take a whiskey course in one hour. Or be educated in single batch Mezcal tequila.
[Work]
After having binged on "Homeland" or "The Americans," you may likely have a curiosity about espionage and spies. Spycast is hosted and produced by the International Spy Museum in Washington, DC. It includes conversations with ex-spies, intelligence experts, and espionage scholars. Recent podcasts include How Intel Analysts See the Corona Pandemic and The Unexpected Spy (who took down some of the world's most notorious terrorists).
Do you need some productivity tips? Well, here's the podcast for it: Beyond The To-Do List. Listen and learn about all aspects of productivity from real life persons, as well as experts, who have proven tools. This podcast will inspire you to get substantial work done while guiding you in choosing goals in work and life. And so much more.
The publication, Fast Company, has a terrific podcast on how to work smarter instead of harder. Many managers who are trying to navigate the Corona seas of balancing business and motivating their teams will find great inspiration here. Recent podcasts include "How to Productively Manage a Team in a Time of Crisis" and "Mentorship and Career Development during COVID-19."
[Play]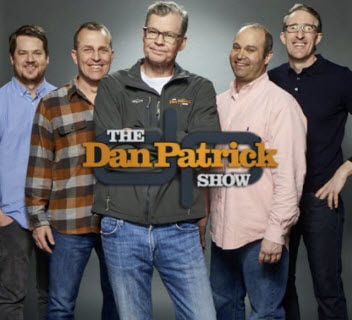 Dan Patrick Show: Each morning, I listen to this show as if I'm sitting on a worn leather couch discussing sports and nearly everything else with my dad and brothers. Even with our current world devoid of live sports, Dan Patrick successfully delivers an informative weekday show with A-list athletes and insiders. The real fun comes from the zany banter with the "Danettes"— four intelligent "bro's" who know their way around the world of sports, beer, music and meat (and sometimes not necessarily in that order). I never miss this one.
Death, Sex, Money are all topics that roll around in our heads yet don't always talk about with others. Over time, podcast topics have included intimate conversations about money, career shifts, parenting, mental illness, relationships, dying, and much more. Their "Starter Kit" will whet your appetite for the show with a short list of their most compelling discussions.
If you lived in Los Angeles in the '90s and 2000s, then chances are you listened to the morning radio show, "Mark & Brian." When their show disbanded, Mark Thompson started a podcast with his wife, Lynda, called The Mark & Lynda Podcast. Diehard fans like me will testify that the show is akin to a weekly audio call with "our family." It shines brightest when it's just full of easy, free-wheeling banter between the husband and wife duo of 35+ years and Mark's "Cool Stories in Music." Oh, and of course, that infamous laugh!