Between every two pines is a doorway to a new world.

John Muir
November 17th is National Take a Hike Day, a breathtaking day dedicated to embracing nature's landscapes, moving your muscles, and spending time in the great outdoors.
This event began as a way to honor our 60,000 miles of trails and encourage Americans to step outside for some heart-pumping hikes and a breath of fresh air.
Let's take a hike together through the many various must hike locations right at our doorsteps! Here we'll share nine spectacular hikes across the United States, as well as some helpful resources to discover refreshing and exciting hikes no matter where you live or your level of hiking experience.
Why Should We Celebrate Hiking?
Hiking is one of the best leisure activities for mind, body, and soul. But it hasn't always been just a fun weekend activity. This sport and pastime only became more popular among non-explorers after the Industrial Revolution.

During that time, changes in working and living behaviors, the invention train, and longer workweeks (often spent in factories) meant people weren't living as in tune with nature as they once were.
People craved the peace and quiet of the great outdoors, and so activities like hiking grew more popular.
As technology continued to develop, so did our hiking and mountaineering gear. This led to even more ways to enjoy an outdoor adventure on the trail with skiing, rock climbing, and canyoneering.
Today, you can find a trail in every US state that fits your level of fitness and adventurousness. From gentle day hikes to challenging climbs, there is a hike out there for everyone!
Where to Hike on National Take a Hike Day (Or Anytime!)
We are blessed with incredible landscapes throughout our big, beautiful country. But, some areas truly stand out as hiking musts.
Spectacular National Park Hikes
The United States s home to 63 national parks, and every one of them is as incredible as the last! There are countless hikes to enjoy in these natural areas. Here are just a few of the must-see spots.
Angel's Landing, Zion National Park – Utah
Angel's Landing is one of the most famous hikes and a bucket list item for many. As you climb your way through the stunning Zion Canyon, you'll travel back in time to the Triassic period to see 270-million-year-old rock layers. The hike is approximately four hours long and best for experienced hikers.
Clouds Rest Trail, Yosemite National Park – California
Clouds Rest Trail leads you to a breathtaking 360-degree panoramic view. And you are truly in the clouds! Low-flying clouds often envelop you as you make your way up, which is how this hike got its name. If you hike up on a clear day, however, you can see as far as Hawaii to the west and Nebraska to the east!
White Sands National Park – New Mexico


White Sands

offers a hike like nowhere else! Rather than climbing old crags or forested rims, you'll be trekking through mountains of pristine, glistening white sands. Gypsum sand makes wave-like dunes in this massive dessert, speckled with unique plans and animals along the way. Don't forget to bring a dune sled to slide your way down!
Spectacular Hikes for Adventure Seekers
The mountains are calling, and you just go. Experienced hikers, climbers, and thrill-seekers have their fair share of exciting trails to visit throughout the U.S. Here are just a few of the incredible hikes to check off your list.
Precipice Trail, Acadia National Park

– Maine
If you love heights, yet don't want to be weighed down with complicated mountain climbing gear, the Precipice Trail in Acadia National Park is perfect for you. It features a short and steep trail that leads you up over 1,000 feet in elevation in just one short mile. The hike is not just walking: you'll be climbing, bouldering, and shimmying your way along a good portion of this trail. Once you've made it, you'll be rewarded with gorgeous views of Frenchman Bay and Mt. Desert Island.
Na Pali Coast Hike – Kauai, Hawaii
If you are an experienced hiker and are lucky enough to find yourself in Hawaii, head to the Na Pali Coast Hike. This is listed as one of the most dangerous hikes in the country but offers a breathtaking reward for taking the challenge. The hike iteself is 22 miles along the rugged Na Pali coast in Kauai. You'll venture through jungles, volcanic ridges and remote beaches. Be wary of falling rocks, flash floods, slippery cliffs and strong ocean currents as you trek!
The Maze, Canyonlands National Park – Utah
For a completely out-of-this-world hiking experience, get lost in the Canyonlands National Park Maze. The Maze is a magnificent landscape with twisting red rocks, tight canyons, dead ends and total seclusion. If remote and rugged is what you're looking for, you'll find it here. Come prepared with plenty of food, water, location devices, and first aid, as The Maze is hours away from the nearest ranger's station. Beware of flash floods, falling rocks and extreme heat.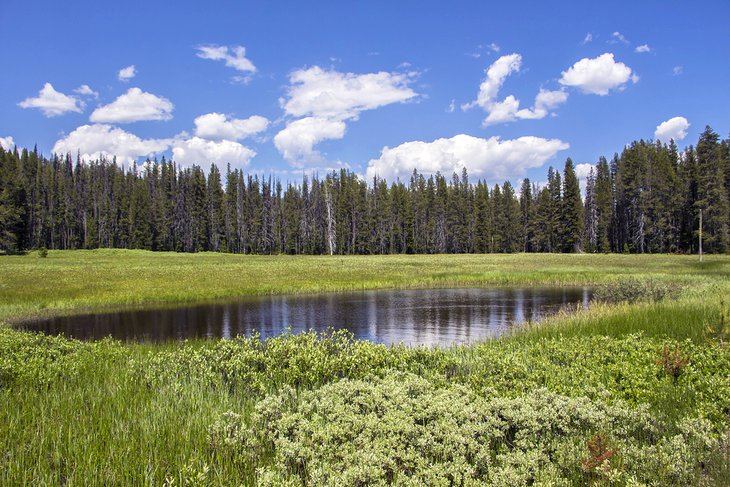 Spectacular Hikes for Families
Hiking is an activity the entire family can enjoy with the right preparation. Be sure to bring lots of water, snacks, layered clothing, and plan your route according to your little one's samina and age. Here are sme of the most family-friendly hikes across the US.
Upper Gorge Trail – Ithaca, NY
Ithaca, New York is full of walking trails and hikes that anyone can do. It captures a similar beauty to more difficult hikes (such as in Acadia National Park), but with more manageable climbs. Head to the Upper Gorge Trails where you can view Lucifer Falls Overlook and even jump in the waterfall pools to cool off.
Stanbery Park – Cincinnati, OH
The Midwest isn't exactly the home of spectacular mountain vistas, but that doesn't mean there aren't plenty of hiking trails to explore. In fact, states like Ohio and Indiana offer some of the most accessible hikes for families. Stanbery Park's 125 acres offers families tons of places to explore on foot. Take a hike, run, bike and play in the creek.
Lily Marsh Park – Boise, ID
Head out West and take the family to Lily Marsh Park in Idaho. This is a 2.5 mile hike that leads you and your crew through forests, boggy marshes and the tranquil Payette Lake. If you visit in summer, you'll also find a tempting trailside snack: huckleberries! For a longer adventure, pack a tent and camp in Ponderosa State Park.
Put on Your Boots and Take a Hike!
Whether you live near a National Park or in the city, make time to get outdoors on November 17th! Hiking is the perfect way to de-stress for adventure-seekers and chill wanderers alike. It not only offers great exercise, but it also improves your focus, clears your head, and brings you closer to nature.
Where will you go?
Learn more about hiking in the United States at AmericanTrails.org, AmericanHiking.org, or your local state's parks and recreation website.