Here comes the sun, and I say it's all right.

The Beatles
Spring: the season of purging, progression, and replanting. From Easter to Spring Break, this time of year is always filled with new possibilities and the promise of a fresh start around every corner.
Spring is the perfect time to take stock of all the lessons of the past and reevaluate the present. Like the blooming flowers all around us, we have a chance to extend ourselves into the sunlight of a new day and rediscover our purpose.
Spring Eating Essentials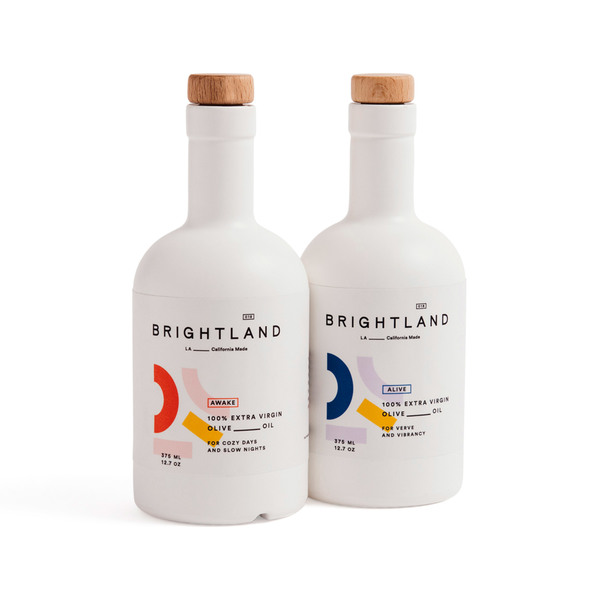 Olive oil is a pantry staple and that fact remains true no matter what time of year it is. However, not all bottles are created equal. For an item we use pretty much everyday, sometimes we put very little thought into the quality of oil we're consuming.
You'll never hear me advocating for the nixing of foods you love and obtain joy from, so if you've found an oil that works for you, definitely "stand by your man." Though if you're looking for a change you can savor, it's Brightland to the rescue. Their duo of Awake and Alive olive oils are liquid gold and are intentionally crafted to balance each other out. Whether it's a moment of resetting or revival you're looking for, Brightland's oils are equal to the task.
Cost: $37.00 for each 12.75 oz glass bottle
I have a weakness. Well, I have many. For purposes of this post, I'll raise my hand to say one of my weaknesses is too many glasses, plates, serving dishes, etc. While it's vital that the food we eat fuels us, I live by the mantra that meals should be as much of a treat for the eyes as they are a vehicle for taste and satiation. This spring, empty your kitchen cabinets of the items that fill you with wintery chills and fill them with the thrilling hues of the season. Rosemary Home is brimming with bright and beautifully made kitchenware, but perhaps none so striking as these 1960's era inspired glass bowls and saucers. This vintage Italian Blue pair will fill you with the spirit of springtime, anytime.
Cost: 98.00
No morning is complete in my household without a bowl of yogurt. I love sprinkling in some granola and fresh fruit to create my very own parfaits. The taste is always mouth-watering and the added health benefits are just the cherries on top (though adding actual cherries is also a great move).
This spring, I'm trying my best to eat only the purest seasonal ingredients, and luckily I found Culina yogurts, which are made from a clean, non-dairy coconut base and unprocessed fruits. Since spring marks the beginning of peach season, Culina's Peach and Cashew Butter yogurt makes for a nutritionally dense and delicious meal choice that will truly put a spring in your step!
Cost: Pricing varies per grocery store
From rhubarb & strawberry pie to the classic lemon tart, spring offers incredible, natural ingredients for delectable pies of every shape, size, and color (though mine tend to be pretty consistently round and large).
If you're a fellow pie person, you know there's a pie for every season, and spring is certainly no exception. If you're also more of a pie eater than baker….same.
In my attempt to "spring forward" I'm stepping out of my kitchen comfort zone and endeavoring to make garden-fresh pies all season long, but not without help. The Book on Pie by master baker Erin Jeanne McDowell is exactly what it sounds like: the pie bible. It is a must-read for anyone looking to lay their Easter table with more than eggs.
Cost: $21.66
It's Spring, which means summer, the pool, and bathing suits are just around the corner. I'm cringing right there with you, girl! Now's the season to eat more steamed foods, especially with all of those luscious veggies hitting your farmers markets and produce sections. Make the dish look even better in this stoneware microwave veggie steamer. This lovely vessel cooks quicker than the stovetop, and is so much prettier than the plastic wrap covered bowl scenario you might have used. Oh . . . you're a pretty dish too, my friend!
Cost: $54.00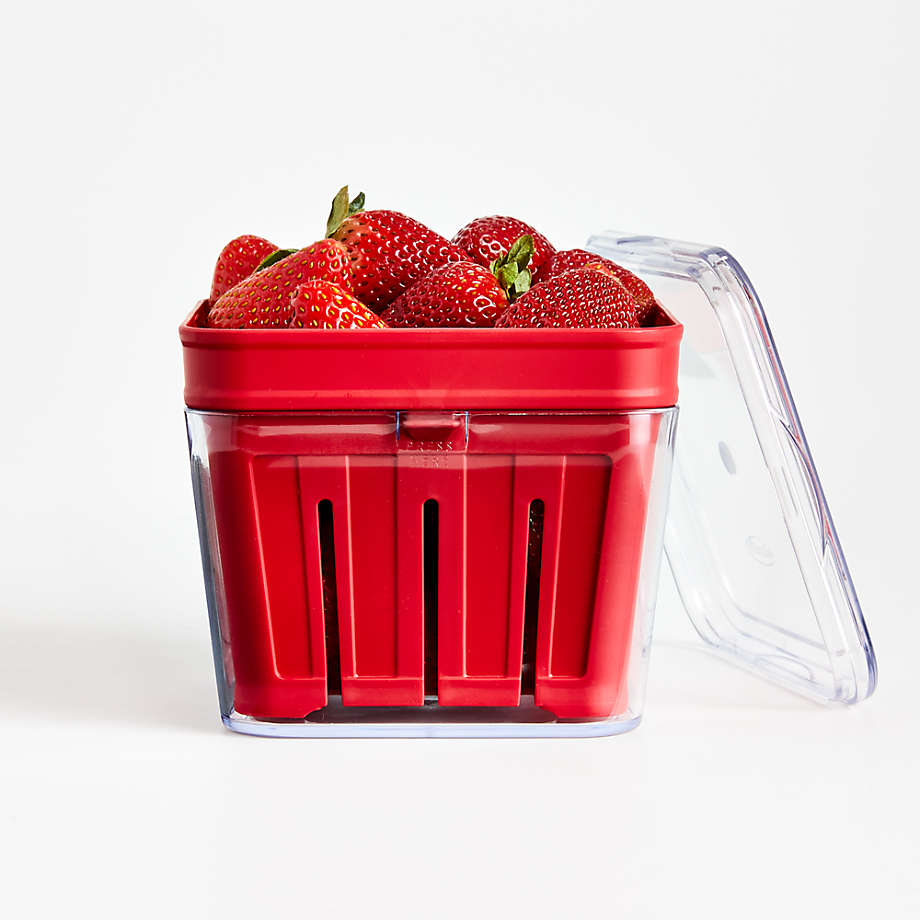 The sweet and sour tastes of Spring are what I dream of year round, but no berry I've ever met rivals the queen of them all: the strawberry.
Though most people consider strawberries to be summer seeds, the first growths belong to March and April, and there's nothing like the taste of the first picks of the season.
Once harvested, my favorite way to store them in the refrigerator is this vibrant vessel reminiscent of a classic berry container. The inner basket has slots to allow you to rinse any of your spring (and summer) fruits, while the outer clear container and lid allow you to see what's inside. This is a true essential for the season.
Cost: $9.99
---
Spring Drinking Essentials
One of my newest favorite discoveries in the "drinking" world is "Drink Becketts." They've perfected the intersection of having fun with a cocktail without drinking yourself into buzz-worthy oblivion. Born in California, Beckett's cocktails and spirits are created for healthy, active living. In addition to being non-alcoholic, their beverages are vegan, organic, cannabis free, gluten-free (and kosher). Try some of their other "spirits," like "Cinnamon Whiskey" and "Coffee Liqueur." They also have thirst-quenching sparkling tonics in springtime flavors like: Mystic Dove Paloma Sparkling Cocktail or Stone Daisy Lime Margarita Cocktail. Cheers!
Cost: $24.99
As the weather heats up, it's important we're aware of staying hydrated. Just like the beautiful spring blossoms all around us, we require water to thrive, and there's no better way to remember to drink than with a beautiful Stella Decanter from Casa Shop. Originally intended as a vessel for wine, these beautiful pieces of usable art can also be used as vases for freshly cut flowers, general decor, and yes, water! The only downside to this product is you'll probably have trouble tearing your eyes away from the beautiful craftsmanship and vibrant colors long enough to take a sip…
Cost: $215.00
For those who love their water — and their water bottles — look no further than Brita's Stainless Steel filter bottle. Never worry about whether your tap water, or someone else's, is pure enough for your inner sanctum. With a built-in water filter, your water has never tasted so pure. And as an added bonus, you and the bottle will stay cool as a cucumber (in water) all day long.
Cost: $24.99 (for 20 oz bottle)
As well as being my favorite season for fruits and veggies, spring is my favorite time to travel. Starting from the days of Spring Break as a child, these months were always a time I anticipated with joy. Travel used to be something defined by shelling out hundreds for international flights and excursions; it was something to be done elsewhere if it was to be done right. But one of the greatest lessons of this year has been that we can use all our senses to explore our world, taste especially. Though I'd be lying if I said I'm not dreaming of the day I can sip on Thai iced tea in Thailand. This Thai Tea Boba Set from Kassava is the next best thing (for now). With all the traditional ingredients and flavor, drinking a glass of this in the springtime sunshine transports me to a world of flavor I didn't know existed.
Cost: $30.00
Is there anything more quintessentially "spring" than sitting down for an afternoon tea? Just the sound of birds chirping again reminds me of sunny days in my garden, sipping on my favorite floral teas while exchanging stories and laughter with loved ones. Easter is basically a holiday devoted to teatime, boasting platefulls of deviled eggs, scones and finger sandwiches on gilded platters with a steaming pot never far away… Though a typical Easter Sunday is yet another year away, I'm holding my favorite memories close at hand with fresh teas and personal high tea set for one, like this one from T2.
Cost: $62.00
---
Spring Working Essentials
Unleash your inner artist and mindful thoughts with this luxurious gravity in rose quartz notebook from Aviva Stanoff Design. Document daily intentions, moods, free thoughts or even your best midnight doodling in this artfully designed notebook. Journaling is all about striving for mindfulness rather than perfection. Take some time to slow down this spring, let go of the things that aren't important and reconnect with your inner self. Aviva's beautifully designed books are the perfect launching pad to foster that introspection. They make a thoughtful, just-because gift for any friend or family member. Better yet, gift it to yourself, and treat yourself to a new beginning this Spring.
Cost: $26.00
Block the blues! These glasses from Diff Charitable Eyewear will shield your eyes from blue light when you're answering those middle-of-the-night emails from bed. At least if you're scrolling or sorting in the middle of the night, you'll look stylish doing it!
Cost: $78.00 (pricing varies per style)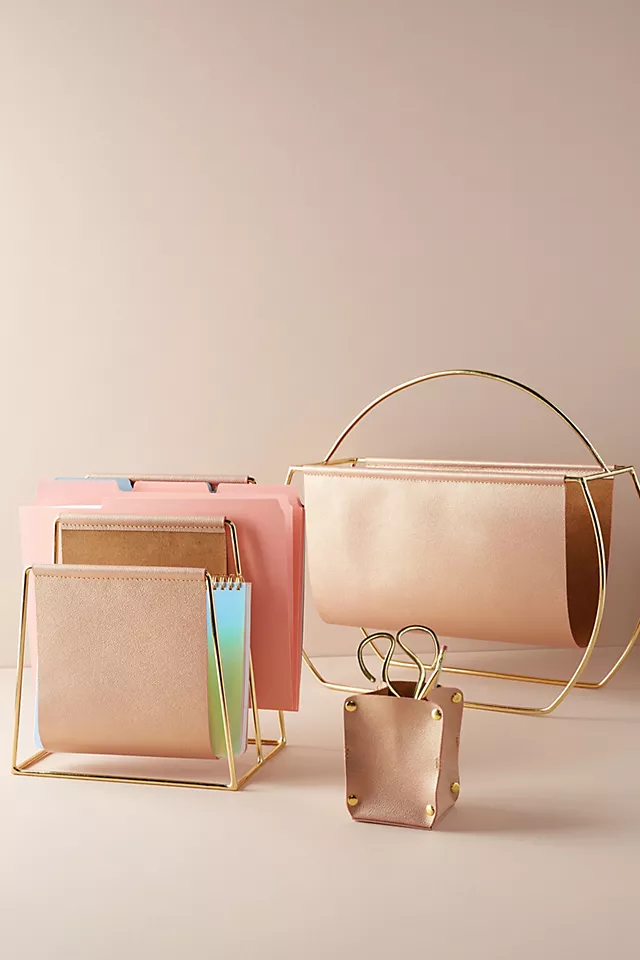 I'm never more productive than when my workspace is neat and organized, so in the spirit of the season, I'm tasking myself with finding a home for each and every single item in my office, and those that don't have a place anymore will be (lovingly) trashed or donated!
Something that always makes the straightening out process less discombobulated, is a good old fashioned storage solution for the desktop. This desk organization collection from Anthropologie may qualify as an organization storage solutions, but old fashioned? Not so much. They do the job of creating space, and these little guys work double duty as they're just as cute as they are functional. They are your desk's spring (cleaning's) new best friend.
Cost: $148.00 for entire collection; also priced individually
Let's face it . . . there are just some days at work when we're sitting at our desk and imagining being elsewhere. I know you're nodding your head right now. Well, center yourself, and channel those dreamy thoughts through these plant and mineral-based candles from Brooklinen in Brooklyn. The set of four will inspire your senses at each period of the day or not. Wake is the essence of the morning ocean tide. Magic Hour is the perfume of a sunlit rose garden. Dusk is the scent of a cozy cabin in the woods. And Nightcap is a dreamy aroma of bourbon and blood orange. There's no rules here; you can even nightcap in the early morning hours.
Cost: $59.00 for one of each scent in a 3.5 oz votive
Let the sunshine in this spring with a goddess crystal suncatcher from Coppermoon! You may be wondering what a pretty crystal hanging in your office window has to do with productivity, but studies show that exposure to sunlight has massively positive effects on mood, anxiety reduction, and even job satisfaction. Opening up the blinds will do the trick just fine, but when crystals catch the light, they throw shimmering rainbow orbs around the room, creating even more brightness and a sense of magic that is so sorely needed throughout the workday.
Cost: $43.00
---
Spring Playing Essentials
Wear spring on your sleeve, or, in this case, around your neck, with Psychic Outlaw's Bloom Balance Scarf. Made for those chillier, early spring days, this 100% habotai silk piece is hand dip dyed to create a gorgeous affect called "water marbling." Each scarf is made to order and completely unique, so you can stand out from the crowd (though if it's a crowd of flowers you may just blend right in). Sustainable, beautiful, and unique fashion is what you deserve this spring, but be patient! Orders will take anywhere from 3-4 weeks to complete.
Cost: $50.00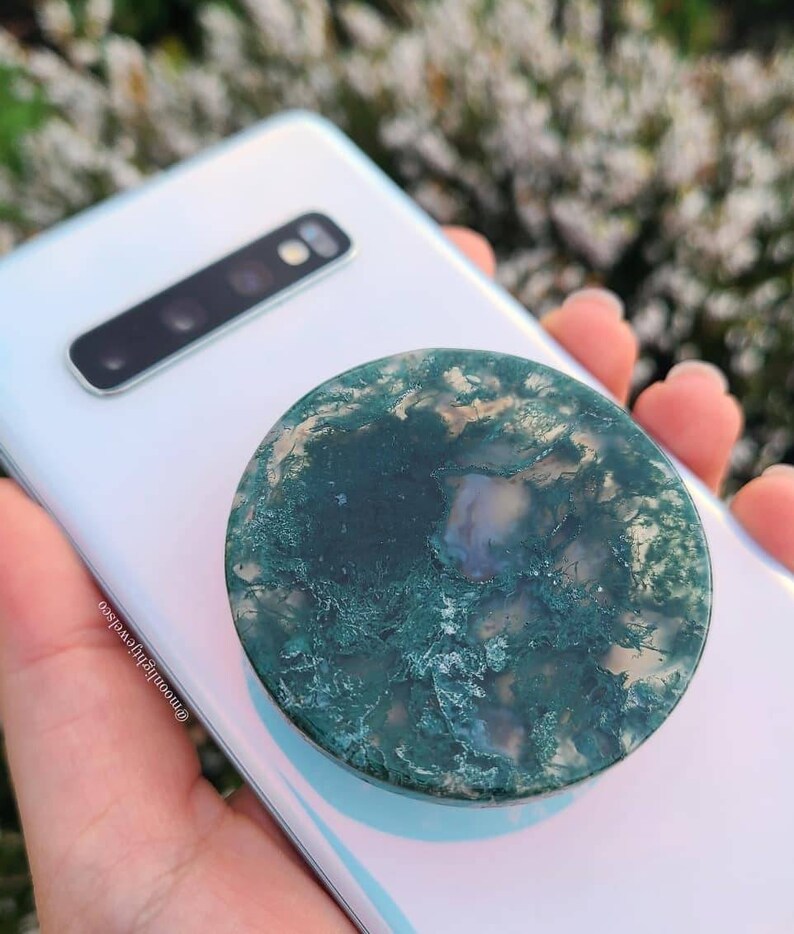 No matter the time of year, your phone is always close at hand; these days they're our home base for working and playing. Since spring is all about "out with the old, in with the new," give your most used item a makeover that's as functional as it is beautiful. Moonlight Jewels Co. have cracked the case on everything crystal, and this season they're offering a gorgeous line of Moss Agate Phone Grips! These gorgeous grips are made from 100% all natural materials so in this season of Earth's rebirth, you will be as connected to mother nature as you are to social media.
Cost: $16.67
As they say, one man's trash is another [wo]man's treasure! And nothing could be truer of these fashionable loop hoop earrings from Cled. These stunners are handmade from discarded glass bottles, and are available in six spring colors, perfect to go with anything and everything in your wardrobe.
Cost: $140.00
---
This spring gives us bountiful opportunities for adventure, though it may be hard to see past the obstacles. All those Spring Break trips we had planned in advance, hoping the time would come to see them through seem farther away than ever now, but through that disappointment there are also endless reasons to be grateful.
Perhaps the greatest part of spring is the vibrancy of colors all around us. I don't know about you, but to me the sky never looks bluer and the grass greener than in springtime. Looking at the bright yellow of the sun and the rainbow arrays of gardens always fills me with so much energy that it's hard not to feel enlivened, just by taking a look around.
For this, and many other reasons, spring is my absolute favorite season of all. No other time of year is there the abundance of life shooting up from the earth as there is now, and really, what else could you ask for?