---
The discovering of a new dish does more for the happiness of mankind than the discovery of a star.

Anthelme Brillat-Savarin, French Lawyer
Everyone loves Trader Joe's. And what's not to love? It's a store that offers a lot of variety, seasonal specialties not found at most other stores, wine tastings on Saturday's, and these amazing frozen croissants that make you feel like you're in a Parisian boulangerie.
And despite all of those benefits, it's taken me a long while to be a believer. For years, I had friends and neighbors go to Trader Joe's and come home with bags of goodies and supplies like they had just had a religious experience. "Look at this they'd cry," and I'd wonder what they were going to do with it. It was one of those stores where I'd go and buy a few items I had found I liked and enjoyed, i.e., those addicting croissants (are you convinced yet?), lemon infused sparkling water, berries, cheeses, and the occasional bottle of wine or craft beer. I felt like it had all the makings for a good picnic but ne'r the full meal. A stop at another store was always in order to ensure all the ingredients were on hand for a complete lunch or dinner.
And alas, a lot of days, my impression of the store is the same. Yet, I've embraced Trader Joe's nowadays as a way to introduce new ingredients or shortcuts into my cooking. After all, on some days cooking can seem overwhelming and time-consuming. After getting through a long day, I would rather sit on the couch with a glass of wine to wind down as dinner magically cooked itself. If only there was a way you could snap your fingers and dinner was ready.
Well, get to snapping your fingers because I've found these Trader Joe products that will give you the shortcut to dinner you never knew existed. And there's bonus points for those looking for healthy, plant-based and veggie vibes.
---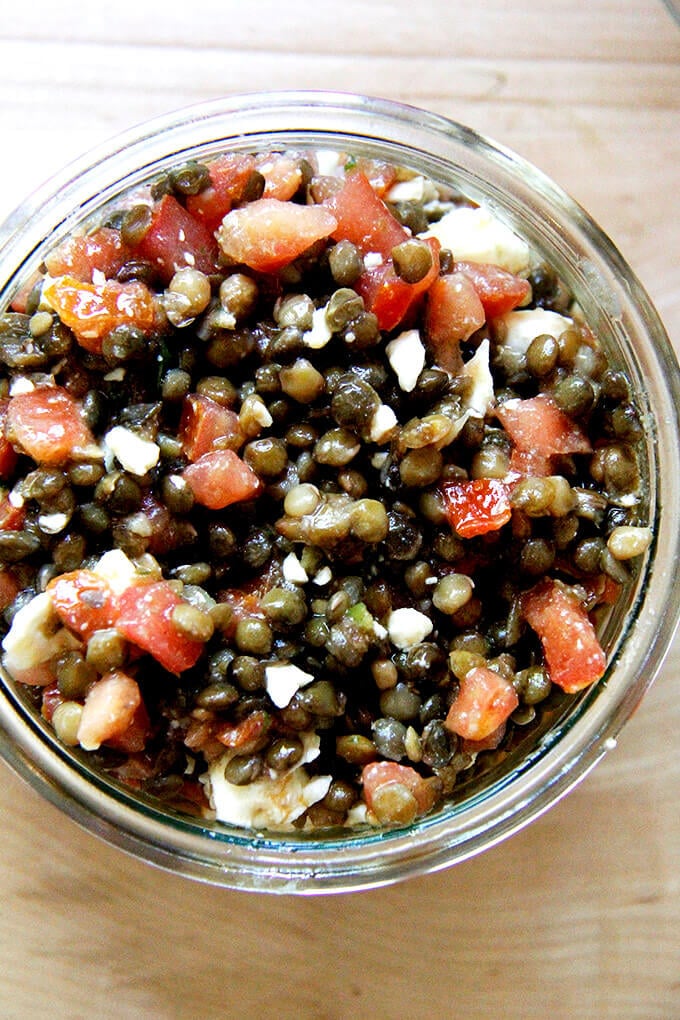 Here's a terrific and healthy snack for your Super Bowl party, for a mid-day quickie or as accompaniment to a hot bowl of soup for lunch or dinner. Made with three ingredients from Trader Joe's: bruschetta sauce, lentils (pre-cooked) and crumbled feta. Scoop up this Lentil Bruschetta with some cauliflower crisps or cucumber slices. It's a go-to that's easy and refreshing. And did I mention healthy too?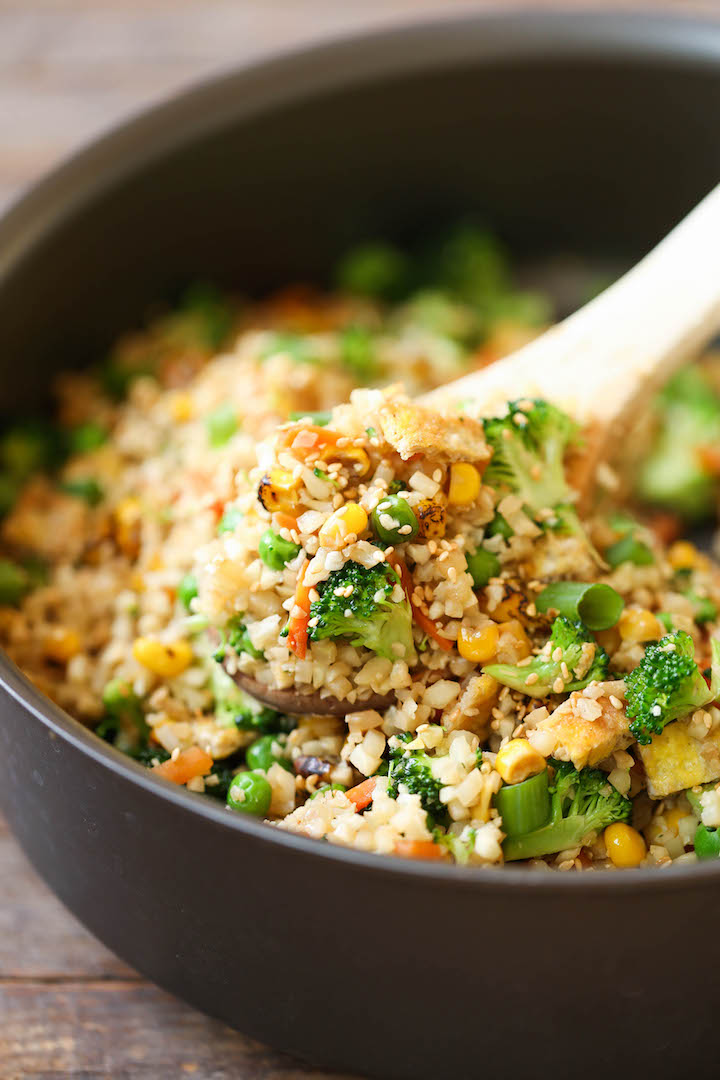 Frozen Cauliflower Rice: There's a joke about "cauliflower being cabbage with a college education." Joking aside, cauliflower does have its nutritional benefits and is known for its culinary versatility. Nowadays, you'll find cauliflower in everything from pizza crusts to brownies, to gnocchi to muffins. And it's become so popular at certain times at Trader Joe's that you're rationed to 2 packages just like you are with toilet paper at Costco!
One of the most popular ways to eat it is as a healthy and easy substitution to rice. Who has time to sit around and wait for the rice cooker or even worse, watch the stove top for when the pot of boiling water is ready? Take the mess and time out of shaving and grating cauliflower into rice on your own. Saute' the frozen cauliflower rice with some frozen vegetables, low sodium soy sauce and teriyaki sauce and you have a stir-fry bowl in less than 10 minutes with no prep work!
Frozen Asian or Stir fry Vegetables: Leave the cutting board in the drawer. Anyways, it's not safe to use a knife and cut vegetables when you are tired, right? At least what I tell myself! This frozen mix of vegetables is a perfect addition to many dishes. Add to leftover [cauliflower] rice, pasta, soup; wrap it in a tortilla or pita; or top a flatbread (cheat code: Trader Joe's has a great pre-made flatbread pizza crust). For stir fry recipes using chicken, salmon and beef with cuisines ranging from Italian to Thai to New Orleans, look no further than here for delicious inspiration.
Frozen True Thai Vegetable Pad Thai: If you've got a microwave and 5 minutes, then you have a delicious dinner ready to eat. The hardest part about this meal preparation is remembering to remove the plastic film from the top of the tray! If you are looking to bulk up the portion size to serve two people, simply add more vegetables. When I'm at Thai restaurant, pad thai is the only thing I consistently order. Now I can have it easily in the comfort of my home.
Frozen Cauliflower Gnocchi: Being Italian, there are certain things I don't eat as shortcuts. Jars of pre-made Italian sauce are sacrilege! However, I've never mastered the art of gnocchi, so I make an exception here. Traditionally, gnocchi takes approximately 2.5 hours to make from scratch. Talk about a life-saver with this hack. You can have gnocchi in less than 15 minutes. No need to thaw out, you can sauté directly from the freezer. This gnocchi is a great, healthy option as it is made with about 75% cauliflower. Top it with homemade sauce and fresh basil. Put it in your air fryer until it's crisp and feed it to the kids as a new-fangled Tater Tot. Or roast it and serve like a potato next to your favorite chicken or beef preparation. Gnocchi, like us Italians, are easy-going and adaptable! LOL
Frozen Hearts of Palm Pasta: Here's a way to a complete pasta meal in a total of 15 minutes. Try beating that time with cooking pasta from start to end. Simply reheat the pasta with vegetables such as tomatoes, zucchini, and corn to make a light a refreshing dish. Pick up some fresh whole grain bread and you have a (near) perfect Italian meal.
Soy Chorizo: This was one of the first products I tried on my plant-based diet. Ladies and Gentleman: I'm here to tell you that will NOT be able to tell the difference between real and soy with this product. Your Taco Tuesday meals just got way easier. Heat the soy chorizo over medium heat for 8-10 minutes. Slice an avocado and pick up your favorite fresh salsa. Layer in a tortilla and you have the perfect plant-based taco. I absolutely love it in a breakfast burrito, and I know you will too!
---
Healthy cooking doesn't have to be hard or time consuming. Shortcuts in the kitchen are always welcomed with open arms and hands free of kitchen utensils. Just remember to set your timer so you don't get caught up enjoying your glass of wine while dinner cooks!