---
Too many simple salads differ from a lack of imagination.

James Beard
When I was a child in the 70's, my father found an old wheelbarrow somewhere, brought it to the house and placed it in our backyard. He thought it would make a great vessel for growing lettuces. His Italian relatives in New Jersey started sending him seeds to plant for growing arugula, radicchio and endive. Little did I know that those lettuces would be so "haute couture" in the 80's and 90's, only to be so simple and prevalent in our store today.
Growing up, my father did 90% of the cooking. From roasts to soups to salads to pasta sauces, it was always a terrific meal! He never used a recipe and even at a young age I marveled how everything came together so deliciously! When it came to mixing those greens, all he did was make this heavenly elixir of olive oil and red wine vinegar with salt and pepper. It seems too mundane nowadays, though my mouth still waters because I loved it so. After he passed away, it took me multiple attempts to get that oil to vinegar ratio just right like Daddy did.
As I grew into my teen years, I had dinner at my best friend's house a lot. They had a big family, and I really enjoyed all of the conversations from her parents and brothers about everything and nothing at all. Her mother was a great cook—simple stuff mostly though always prepared lovingly and with a lot of flavor. 
One of her mantras was: Always have a salad on the table. And she always did. They were never the fancy salads we know and enjoy nowadays. Generally, her salad creations always started with iceberg lettuce unless romaine was on sale. What set the salad "on fire" for me were all of the vegetables from the garden — cucumbers, peas, peppers, and her famous tomatoes in the summer. The salad dressing of choice was almost always Good Seasons Zesty Italian Dressing that she mixed up . . . . from a packet.
Today, I still love a great salad! I am constantly on the internet looking for new pairings of ingredients along with different homemade salad dressings. No matter the season, there's just something fresh and vibrant about a good salad for me. And the best part: When I eat one, I eat less of the main course. It's a win-win!
The Makings of a Simple Salad Dressing
When it comes to salad dressings, try to make your own. There is surely something to be said for the convenience of bottled dressings. However, homemade dressings are so easy to make these days. If you keep some of the basic ingredients on hand, they will become even easier for you to throw together for the family in moments.
Basic Pantry Ingredients for Homemade Salad Dressings
Olive Oil

Avocado Oil

, especially for its health benefits
Balsamic Vinegar
Red Wine Vinegar
Apple Cider Vinegar
Honey
Lemon
Dijon Mustard
Salt & Pepper
If you have these on hand, you have the essentials for a classic vinaigrette (regardless of your oil or vinegar/acid) preference.
Lettuce Go Grocery Shopping
When you're doing your weekly shopping, spend a bit more time in the produce section than usual. You'll see those "pre-made" bags of salad. And again, while super convenient for families with myriad of tastes, you'll all be more satisfied with the freshness of new combinations of lettuces, vegetables, herbs and sometimes, even fruits, cheeses and meats.
Here are ten of my favorite winter green salads. For all of you who enjoy protein on your salads (shrimp, chicken, salmon, etc.), most of these are highly adaptable to become a main course salad.
Try out these healthy winter green salads and let me know what you think. All are healthy and satisfying in their own way and offer a wide array of health benefits.
"Lettuce" all be happy!
Healthy Winter Green Salad Options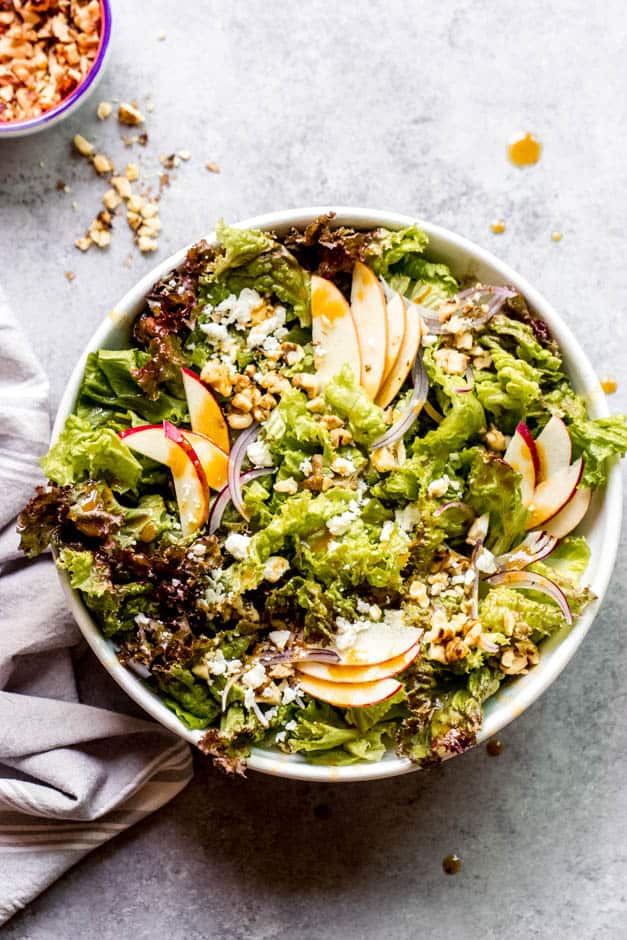 Apple Walnut Green Salad
I love this salad for its vibrant color and versatile textures. The granny smith apples add a nice crunch along with the walnuts. The walnuts even act as a powerhouse source of unsaturated fat, aka the "healthy" fat our body loves. This salad can easily be served as a stand-alone salad or as a smaller portion for a side salad.
Vegan BBQ Chickpea Salad
If you're looking for a salad with a little more substance, try this Vegan BBQ Chickpea Salad. The BBQ chickpeas add protein and a savory flavor, and the vegetables take the spotlight while the lettuce is more of an accompaniment. This is a great salad for all of the "I don't eat salad" people out there! I even like switching up the chickpeas and doing buffalo chickpeas instead of BBQ for variety.
Arugula, Pecorino, Pine Nut & Pear Salad
This is salad is one that reminds me of my childhood. Arugula from the wheelbarrow, salty hard pecorino with the sweetness of pears, and the roasted pine nuts for crunch. A simple dressing of balsamic and EVOO and bada-bing, here's a salad Tony Soprano would even eat!
Vegan Mexican Salad
This is the perfect side salad to your next "Taco Tuesday." This salad pairs perfectly with Mexican food such as tacos and enchiladas. It is full of vibrant colors coming from romaine, baby greens, onions, cherry tomatoes, radishes, corn, and pumpkin seeds. The variety of colors offers an abundant amount of nutrients and health benefits, each color offering a different one. My favorite part is topping the salad off with a cilantro lime dressing and crispy tortilla strips. While you're planning this one into your dining schedule, add this amazing vegetarian enchilada recipe too!
Roasted Carrot & Avocado Salad
I love carrots, and I really love avocados, so I was especially delighted when I ran across this recipe. The roasted carrots together with some roasted almonds provide crunch and satisfaction. Grapefruit juice adds an unexpected tang and zip to the dressing with your EVOO. And the avocados, well naturally. . . . they add creamy deliciousness to every bite. This one is a victory for the mouth and body!
Shaved Brussels Sprout Salad with Pomegranate
Move over traditional lettuce. Say hello to shaved Brussels sprouts. Brussels sprouts take a versatile role as the green base of this salad by adding texture and flavor while boosting the nutrition profile. Pomegranates are also a nutrient superstar. Their antioxidant properties help fight inflammation. This makes it a great food for heart disease, type 2 diabetes, arthritis or joint pain.
Sprouted Lentil Salad
Lentils and farro can be intimidating standalone foods, yet this salad incorporates lentils and farro into a delicious combination. Farro is a grain known for its rich nutrition content. It is considered a superior grain option to rice because it is rich in protein, fiber, magnesium, zinc, and B vitamins. This salad is a great way to try some new plant-based foods.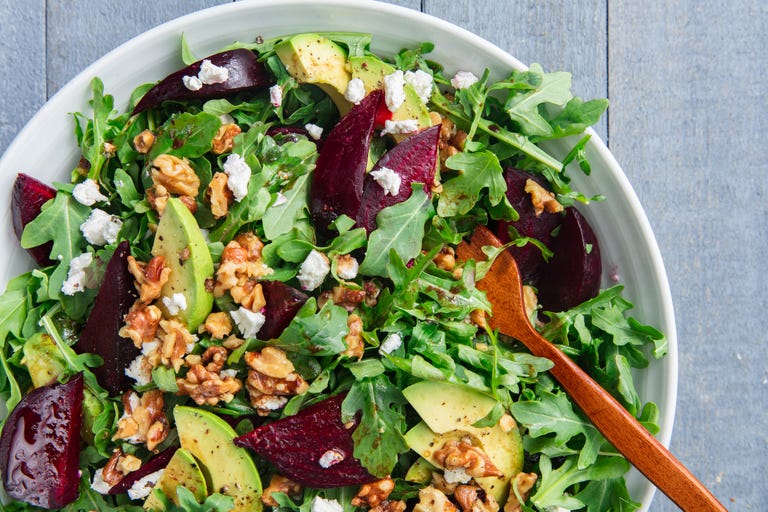 Roasted Beet & Goat Cheese Salad
I know I'm in the minority by saying, "I love beets." I'm not referring to the pickled kind that your grandmother may have enjoyed. Rather, I love the sweet and savory taste from roasting red and/or golden beets with good EVOO in the oven for an hour or more. Roasting them will enhance their flavor profile and add a little substance to a salad. And the health benefits of beets are enormous. Combine them with fresh greens like arugula and/or spinach, good quality goat cheese and some crunchy fresh walnuts . . . OMG! Give this one a shot. I promise it's one you'll really enjoy!
Healthy Winter Green Salad
For those of you (and me!) who like a salad chockful of a variety of different ingredients, here's one for you. Check out this list of ingredients: kale, greens, broccoli, cauliflower, cabbage, radish, walnuts, pepitas, cucumber, blueberries, dried cranberries and avocados (yeah!). A simple and easy-peasy vinaigrette of balsamic, Dijon and EVOO—and voila—salad is served. If you're following a plant-based diet, this is a terrific one to satisfy most urges. And it's a super easy one to which you can add chicken or salmon for the others in the house. Dinner is served!
Roasted Butternut Squash Salad, Warm Cider Vinaigrette
For our last salad selection in this post, we turn to the food goddess who has a home in most of our hearts (and stomachs), The Barefoot Contessa. The Eat. Drink. Work. Play. kitchen loves butternut squash so this one was an immediate hit when I tried it. It's winter love in a bowl. You'll love it too!