---
Every health expert tells you to eat breakfast. I had the mentality, 'I'll save those calories!' But then you are starving and overeat.

Trisha Yearwood
Okay, ladies (and gentlemen)! Raise your hands and forks if you've thought this more than fifty times during your adult life? Yeah, I thought so! Now keep your flatware raised if you know why breakfast is so important.
Eating breakfast is a "must-do" in the morning as it maintains energy levels, helps with weight management, boosts brainpower and reduces risk of illness.
Until a few years ago, my fork would have been down . . . as in "still in the drawer.". Yes, completely down. My mother—bless her heart—never really fed me much breakfast before school when I was growing up. I survived just fine because sleeping that extra 10-15 minutes was more important to me. Then, I took this little "way of life" into college because, again, sleeping was more important especially when I had a dreaded 8:00AM lecture. I graduated to bagels and cream cheese at my first real job at a law firm thinking I was cool like the men and women in suits I followed in every morning carrying the same brown bagel bag.
Further into adult life, breakfast was more like a Diet Coke (or two) before 7:00AM to get the blood pumping and the body moving. (Ugh—my nutritionist is cringing as she reads this!) Even when living with someone, breakfast was that thing you did on weekends when you had time to cook the bacon and eggs. And still, in recent months, when perusing food magazines and blogs, it's the breakfast recipes I gravitate to last. Until . . . turning over a new leaf, I realized that, similar to Trisha Yearwood's revelation, breakfast IS THE most important meal if you're going to get your day started on the right foot.
It seems so basic, and yet, I and so many others never learned this elementary tool toward living a healthy and slimmer life. According to a recent Cornell University study of naturally slim people, nearly 97% of them always eat breakfast.
Not eating breakfast always made me eat more during the day (to make up for the missed calories at breakfast). And it took me most of my adult life to understand how important it is to front-load your caloric intake in the first half of the day. This jump starts our bodies to keep burning calories during the day before we go to sleep again. When we sleep our metabolism slows w-a-y down, and we don't burn as many calories. When we skip breakfast, later in the day; we find ourselves eating bigger meals and more snacks. And healthy snacks they are not, because now our bodies crave sugar and carbs.
Having learned all of this, now, I'm really structuring my day around my breakfast meal. The start of my days fluctuate drastically sometimes during the week ranging from 4:00AM to 9:00AM. Still, no matter the time, I make sure I eat something—even if it's just a smoothie—to get me started versus holding out for the lunch hour.
I'm finding that planning ahead and making things interesting helps a lot to meeting my breakfast objective. And guess what? I have more energy, more clarity of thought and I find I am not nearly as hungry later in the day as I used to be.
Let's not wait until the new year to start a new breakfast regime. It's all about the here and now and making yourself the best you can be. Here are some healthy breakfast ideas to get your day started properly!
---
Plant Based Breakfast Ideas
These are some of my favorite plant-based breakfast recipes. Try one or three of them! I promise you'll reap great rewards—feeling better by eating better.
---

This one freezes really well so you can plan ahead. No excuses to skip a fun and delicious breakfast that feels like Sunday morning on a Tuesday.
---
Black Bean & Sweet Potato Hash
Sweet potatoes (along with butternut squash) are my favorite fall vegetable. This recipe brings that savory sweetness into your breakfast meal, and quenches the cravings far into the day.
---
This is a delicious "one bake" breakfast that provides a week's worth of healthy mornings.
---
Three ingredients, one blender, five minutes. Waking up is harder than making this breakfast!
---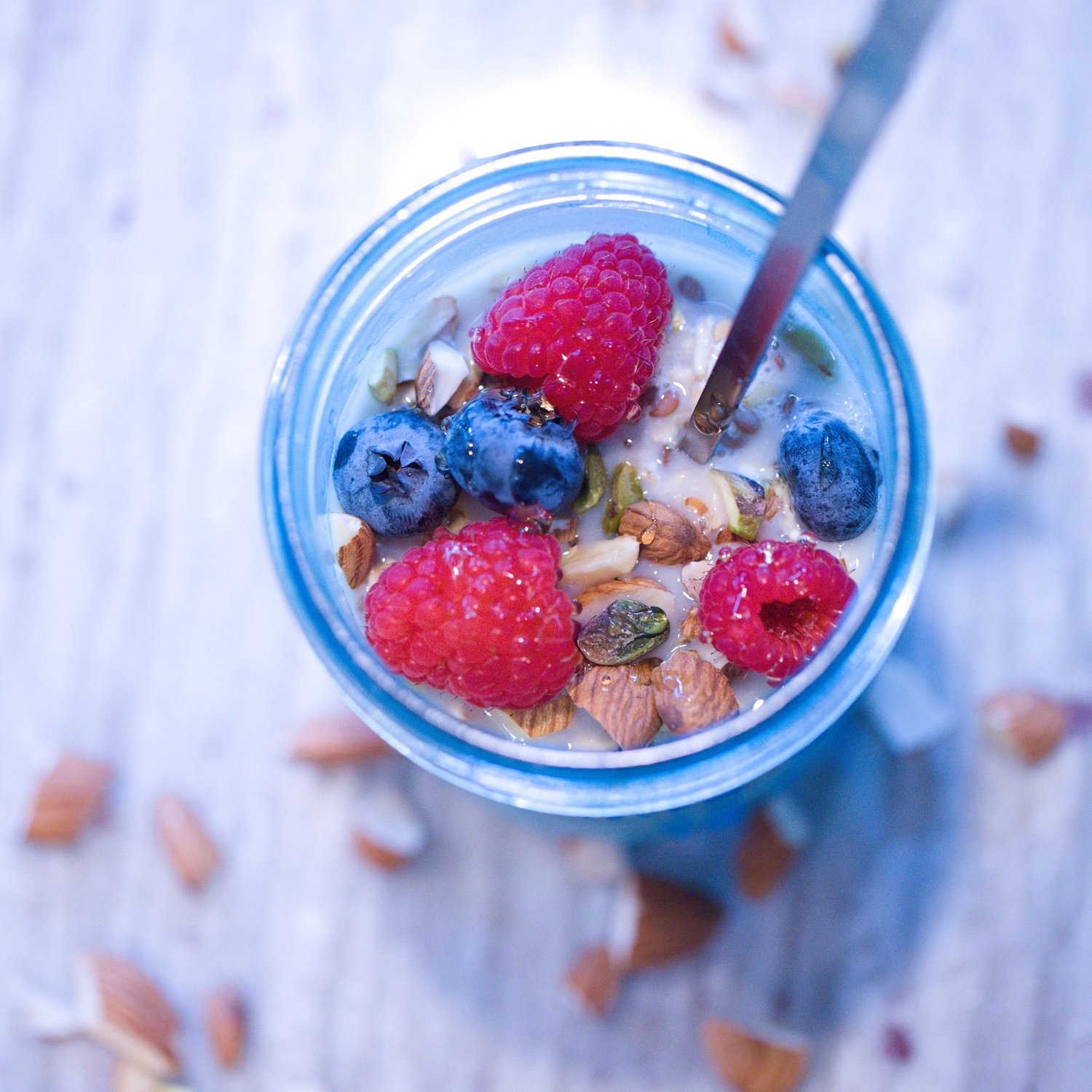 What's easier than waking up and having a healthy breakfast already prepared and awaiting your fork or spoon? Overnight oats is the way to go! Minimal prep, "cooking" while you're asleep and ingredients that are healthy and wholesome as they come.
---
Additional Versatile Breakfast Options
Here's a savory breakfast bite that I really enjoy. These lovely bite-sized miniature egg frittatas are beauties that can be made one evening and serve the whole family "on the go" for the next morning — or even further into the week depending upon the size of your household. Like the overnight oats, there's so much versatility. Add meat, if you wish. Change up the cheese. Sub in your favorite veggies. 
---
If you like your breakfast "loaded" with ingredients, for better or for worse, here's a fun one! To keep it healthier, try this recipe with  "Soy Chorizo." I promise you won't want for flavor with this one. Add some grilled or sauteed peppers and you have the best Sunday "hangover" burrito — that's good for you!
---
Avocado toast has become a real staple for me in recent years. If you love a crisp piece of toast with creamy seasoned avocado, then stop here and explore. This is another breakfast idea that can be as simple or as complex as you wish. Start with "Dave's Killer Bread" for a slice full of protein, fiber, whole grains and no preservatives. Follow along here for some added inspiration to keep the week (or month) creative and enticing.
---
Here's another make-ahead breakfast casserole that can be vegetarian just as easy as it can be decadently otherwise. I love how you can literally empty the contents of your refrigerator into this one. . . .or plan ahead using your family's favorite vegetables (and meats).