---
Bacon? No thanks!

Said No One, Ever.
It's National Bacon Day—and we couldn't be happier! While some might argue that every day is the perfect day to indulge in nature's most delicious gift and they wouldn't be wrong—we believe in making December 30th extra special!
Did you know that your obsession has a name? That's right: "Bacon Mania" is the term used to describe bacon-craving, bacon-raving Americans and Canadians. Apparently, the rest of the world hasn't caught on to our fetish yet!
Bacon donuts, bacon pancakes, bacon-wrapped turkey… bacon body wash? While some Bacon Maniacs may have dove into an extra-weird "side of bacon," here are a few recipes to give you some artful direction for National Bacon Day.
---
Breakfast Ideas for National Bacon Day
Bacon & Eggs
This sounds almost too simple. After all, this is a National Holiday—FOR BACON! But check out this recipe. It celebrates bacon in its most rudimentary form, cooked on the stovetop, utilizing all the leftover bacon fat to sizzle the eggs to cooked perfection. Oh YES! Are you drooling yet? The recipe's simple step-by-step instructions will ensure that your bacon doesn't go up in smoke! Besides, you need to master your bacon technique early in the day… you have more recipes to prepare!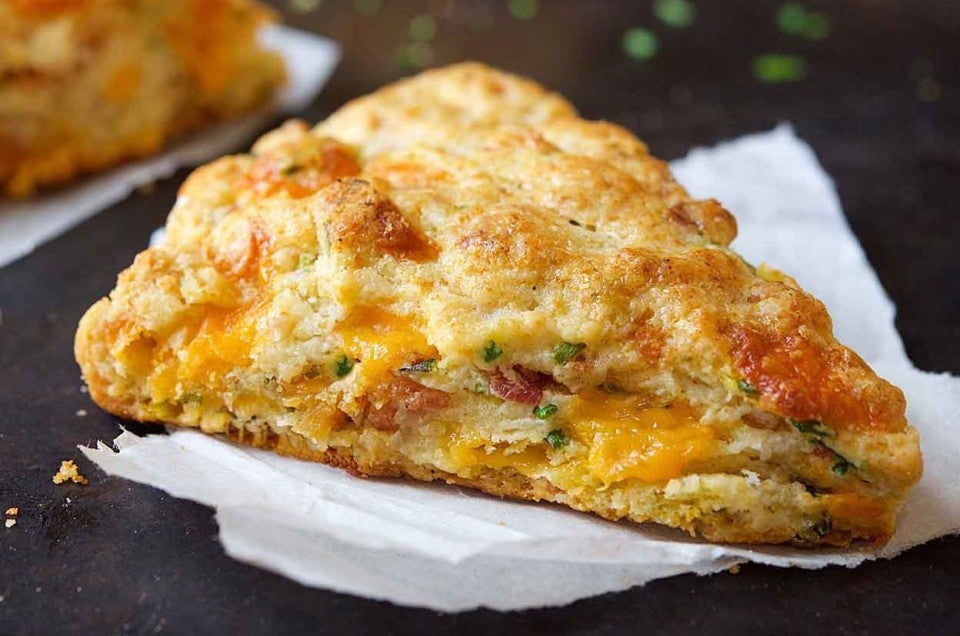 Bacon-Cheddar-Chive Scones
Did you know you are 22 minutes away from bacony, pillowy scone heaven? Because this recipe is to die for! We usually think of scones as something sweet, but not anymore! Take a gander at this savory recipe. Pair it with a brothy soup, like this one, and just roll over from absolute glee. There's nothing like warm scones from the oven! But I gotta say, they are next-level once you add bacon to the mix.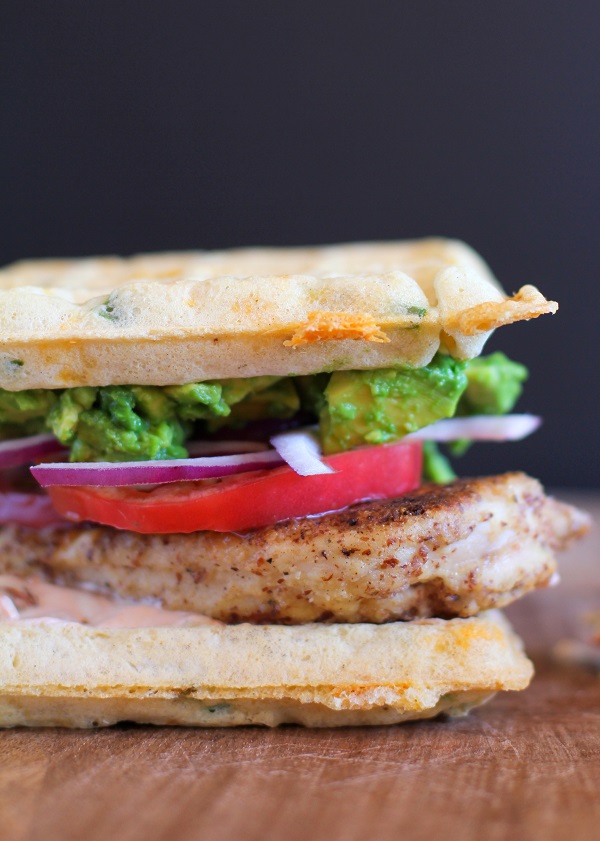 Jalapeno Cheddar Chicken, Bacon, Waffle Sandwiches
Perky red onions, drippingy sliced tomato, and creamy avocado plus— crunchy, succulent bacon, and a beautifully moist chicken breast smothered in Yogurt Chipotle Sauce… all smushed between two Jalapeno Cheddar Waffles! This recipe is sure to spice up your National Bacon Day, tantalizing your tastebuds and heating up your palate!
---
Dinner Ideas for National Bacon Day
Bacon-Wrapped Pesto Pork Tenderloin
Pork wrapped in pork? We really are sorry, piggies—but yes, please! Not only do you experience a pork overload with this one, but you also enjoy the subtle brightness of freshly-made pesto. That'll keep your palate light and airy, cutting through some of the bacon fat you've experienced today! Pair it with a bottle of Reisling, and call it a day! (Well, until dessert anyway.)
Smoked Gouda & Bacon Burgers with Barbecue Sauce
Everyone (almost) loves a great burger. And the addition of bacon just ups the flavor factor of the burger tenfold. This patty melt-style burger is topped with smoked gouda, a homemade barbecue sauce, and hot-sauce-spiked onions. It's an easy recipe to make for the family for any weeknight meal. Make it for your Sunday home "date night" and add some fries from the air fryer . . . . your husband may just propose to you all over again!
Bacon-Wrapped Filet Mignon with Truffle Butter
This takes indulgence to a whole new level. Bacon and truffle? It has been done, and it will be done again! Can you imagine crisp bacon wrapped around a tender filet, covered in aromatic butter, the meat releasing its pink, decadent juices? Sounds tempting, right? Give it a try!
---
Dessert Ideas for National Bacon Day
Bacon Fat Gingersnaps
These Bacon Fat Gingersnaps were a holiday hit at the Eat. Drink. Work. Play. culinary workshop. Just the right amount of crunch and spice. And oh, the subtle snap, crackle and pop tinge of bacon at the back of your tongue. So, good. So satisfying.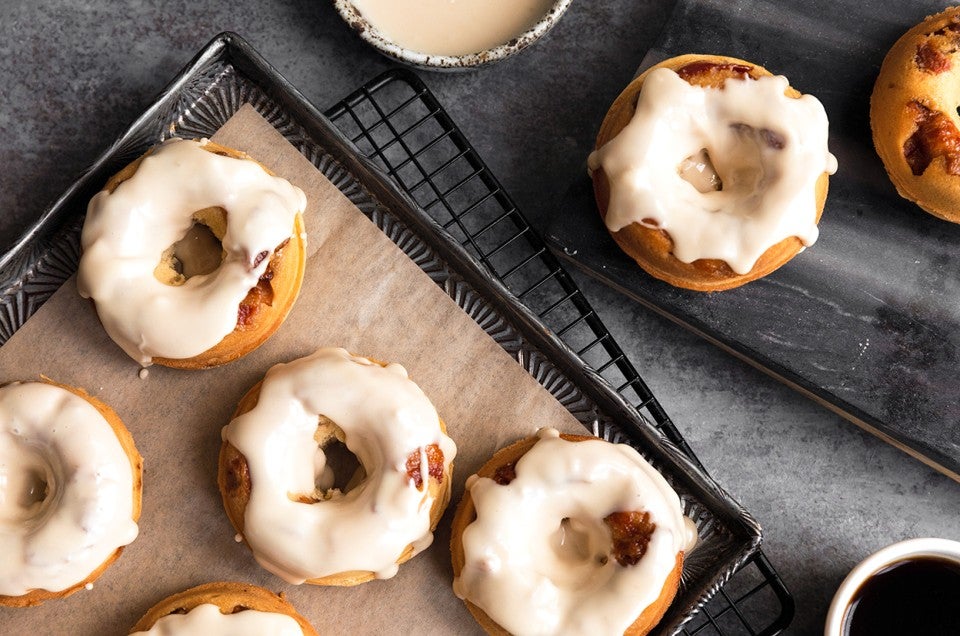 Bacon Cake Donuts
If you want to venture on the side of "ridiculously indulgent" for dessert, check out these maple glazed bacon donuts. Imagine these hot, steaming donuts coming out of the oven, wafting through the entire house! Be prepared to defend them from husbands, children, and anyone else sneaking around the kitchen corner! The best part: cake donuts are baked, not fried. Okay, maybe that's not the BEST part. After all, it's National BACON Day. But I digress. While baking doesn't make them much healthier (see the recipe tip to substitute bacon fat instead of butter), it does mean you can "set it and forget it." (If you need a donut pan, check these out!)
Bacon Ice Cream Sundaes
Don't fret if you don't have an ice cream maker; this recipe is churn-free! Creamy sweet, maple ice cream with bits of fatty bacon (frozen) on top? This would pair very nicely with the above donuts. Or it can be enjoyed as a stand-alone dish!
---
Drink Ideas for National Bacon Day
Bacon Infused Vodka
If you already knew this was a "thing," you definitely have Bacon Mania! Make your own Bacon Vodka by frying up a package of your favorite bacon and combining it with your favorite vodka. Two to three weeks later, you are ready to make anything your little Bacon heart desires, like this Bacon Infused Bloody Mary or a Classic Caesar with a Twist. Armed with this new concoction, the options are endless! Try it in all your favorite drinks! After all, everything's better with bacon!
---
We hope we have been "bacon you crazy" with all these alluring Bacon Recipes! Whichever one (or ones) you choose, we trust they will keep you and your family coming back for more every National Bacon Day!