---
The feeling of friendship is like that of being comfortably filled with roast beef.

Samuel Johnson, American Writer
Sunday Dinner is all about comfort. It's the one day of the week when we are most likely to truly relax, gather friends, and enjoy the comfort of friendship over a good meal.
When thinking about this weekend's dinner, comfort food immediately came to mind. It's just been one of those weeks where sharing a good meal, a great glass of wine and a quiet conversation were imagined as the perfect ingredients for a relaxing Sunday dinner.
And when I think of comfort food, I invariably think about so many classic meals that we don't cook or serve a lot anymore. These are dishes like: Coq Au Vin, Meatloaf, Chicken & Dumplings, Beef Bourguignon . . . and one of my favorites, Steak Diane.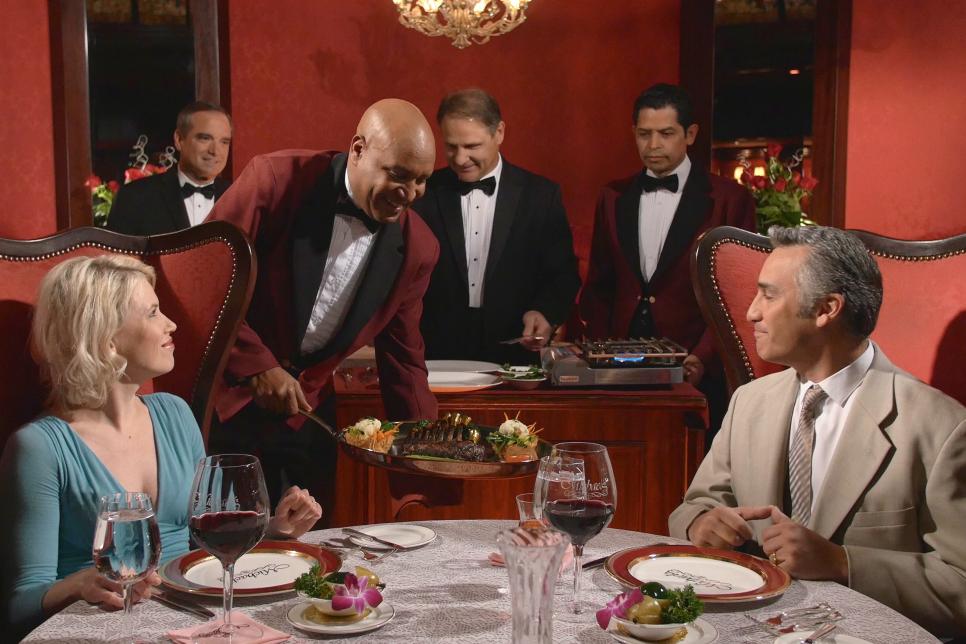 Back in the '50's, Steak Diane was served in the fanciest restaurants of New York. I can just picture it: You're sitting in an overstuffed semi-circular leather booth, glancing out at all of the other patrons dressed to the nines for a fancy date night out on the town. Instead of your selection coming to the table presented and served from a polished silver tray, it is prepped in the kitchen, and rolled to your booth on an elegant tableside cart. The tuxedoed water displays a platter with your dinner beautifully presented in a copper pan, then retreats back to the cart where a small stove is readied for the final plated dish.
In its essence, Steak Diane is beef tenderloin with mushrooms and shallots served in a sauce seasoned with brandy, cream and a touch of mustard.
The classic way to prepare and serve Steak Diane is to pan roast the beef tenderloin, remove the beef from the pan, reserve the juices and beginto prepre the decadently rich sauce. What makes the sauce truly glamorous is adding some brandy and lighting it. The flame ignited from the alcohol will cook off and render a beautifully caramelized flavor that harmonizes with the rest of the ingredients. Watching it prepared in front of you almost ensures that the flavors are ready to jump out of the pan and do an energetic jig straight into your mouth!
This recipe will produce a luxurious dish that make your family or guests feel like kings without spending the entire day in the kitchen. It's even easy enough to prepare for a special weeknight anniversary or birthday meal when a splurge is worth it. Whenever you choose to serve it, it will be a winning dish that brings classic comfort and taste to your dinner table. And as Samuel Johnson says, your guests will not only be filled with the comfort of the meal, they'll be filled with the feeling of friendship as well. And that's the true essence and beauty of a Sunday Dinner.
---
Steak Diane
What a glamorous and elegant classic Dinner! This recipe is modernized a bit to make it easy enough for a weeknight dinner. Rather than accompanying potatoes and plate full of sauce, I gently saute the beef tenderloin, then make the sauce, and serve with over a bed of sauteed spinach. Enjoy with a bold Cabernet Sauvignon.
Ingredients
1

tablespoon

unsalted butter

1

tablespoon

EVOO

2

beef tenderloin filets

6 ounces each

Kosher Salt

Freshly Ground Black Pepper

1

small

shallot

minced

2

cloves

garlic

minced

1/4

pound

mushrooms

sliced thickly

1/4

cup

Cognac or Brandy

2

teaspoons

Dijon Mustard

1/4

cup

heavy cream

1/4

cup

veal demiglace

2

teaspoons

Worcestershire sauce

1

tablespoon

scallions

finely chopped

1

tablespoon

Italian parsley

finely chopped
Instructions
In a large skillet, melt the butter and olive oil together. Season the meat very well with salt and pepper, and sear over high hight until lightly brown. Turn over and repeat. Remove from heat and transfer to a plate and tent with foil.

Add the shallot and garlic to the pan and cook over moderate heat, stirring, until fragrant, about a minute or so. Add the mushrooms, season with salt and pepper and cook until softened (but not soft), approximately 5 minutes. Remove from the heat, add the brandy. (If you dare to light the pan, do so with a long match and off the heat of the stove.) Cook over moderate heat for approximately 2-3 minutes. Add the mustard and cream and stir for approximately 2-3 minutes. Whisk in veal demiglace, Worcestershire sauce, scallions and parsley. Season with salt and pepper.

Add the meat and any accumulated juices to the same saucepan and continue to cook over low heat, with cover on, for a few minutes — until meat thermometer registered desired doneness. Continue to stir sauce around the steak.

Transfer meat to plates and spoon sauce and mushrooms on top.
Notes
Demiglace is available at some finer grocery stores or butcher shops, or on Amazon.