I would like, if I may, to take you on a strange journey.

The Criminologist, The Rocky Horror Picture Show (1975)
October 31 may be the spookiest day of the year, but don't let Halloween-prep scare you off. With the right decor and bedazzling, your haunted house will be the life of the party with our Essentials for Halloween! Muahahahaha!
---
Halloween Eat Essentials
Before you can host the perfect Halloween party, you have to prepare for a morning after clean-up that might be straight-up scary. Keep the demons and dirt at bay with a Zero Waste Dish Washing Block from Prelude & Dawn. These powerful little scrubbers can't do much about ghosts, but they'll power through any residual germs hiding on your dishware. Aloe Vera keeps your hands from zombification, and each bar has a life expectancy well beyond Halloween — no matter how big the mess is.
Cost: $9.00 each
Perhaps the most chilling possibility of hosting a Halloween party? Burning yourself during the meal prep! You'll need a bubbling hot cauldron for more than a witches' brew. Your guests will likely come anticipating a meal fit for a mummy (or a ghost, or their Halloween costume of choice this year). Whether it's a yummy bowl of Halloween Pasta or a sinfully sweet spread of Spooky Krispy Snacks, you'll need to work with multiple hot surfaces. Protect yourself from burns and boredom with a Patchwork Pup Oven Mitt. This one-size fits all glove is more than just a safety tool. It's so cute, it'll double as a costume for your hand.
Cost: $26.00
Fake blood is an easy way to make any outfit more eerie, and it's also a scary sight to make any home more horrifying! Your guests will shudder with delight when they see your twisted treats laid to rest on these Blood Splatter Plates from Fabrek. The platters are handmade in Italy, so each and every plate of food will be as unique as the costumed consumer eating from it! Festive enough to use all season long and beyond, these ceramic beauties will be the perfect addition to any dinner party (especially if you happen to be friends with vampires)!
Cost: $16.61 each
Won't you be the fear-inspiring bone-chilling hostess with these temporary hand tattoos?! With many terror-ific designs, such as a ghastly ghost, a creepy spider or a spook-tacular vixen, these beautiful line art temporary tattoos are sure to bring a mischievously wretched look to your devilish costume. Creep your friends out — and have a howling good time doing it!
Cost: $17.90 for two tattoos (one for each hand)
---
Halloween Drink Essentials
Take your next party out of this world with a set of Alien Head Mugs from Earthbound Trading. Each Halloween party worth its salt has a blood-curdling cocktail of some capacity bubbling away in a cauldron from witch to entice, entrance, and imbibe. Whether it's a barrel of Butterbeer or a Zombie Cocktail, your guests will expect terrifyingly tantalizing refreshments served with flair. Don't let them down! Serve up your sweet treats in some high quality ceramic mugs that they'll be beaming at all night long.
Cost: $12.95
If you have one shot to prove yourself as a devilishly divine party host, do yourself a favor and serve it in this Skull Glass from Trouva. All the way from Devon, England, these little guys will set the mood for one blood-curdling bash. Don't bore your guests to death this Halloween. A glass this hair-raising requires an elixir far more interesting than your average hair of the dog. Try a Zombie Brain Shot or Candy Corn Vodka shots for drinks so good your guests will have a hard time remembering them. After all, dead men tell no tales.
Cost: $12.49 each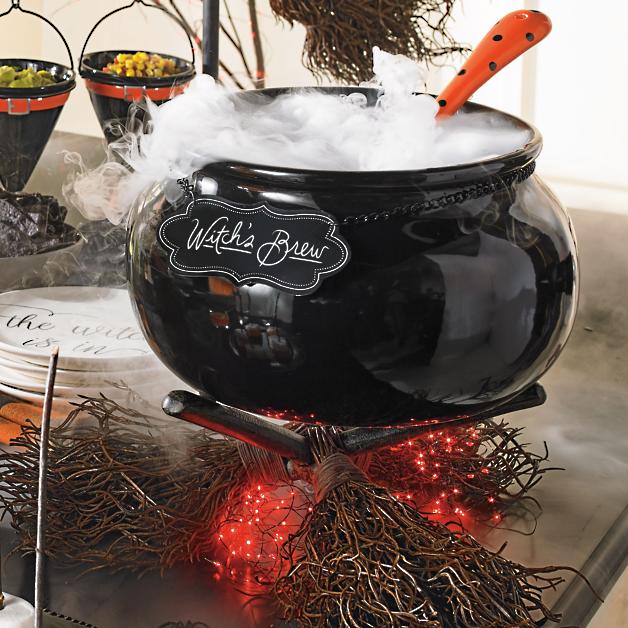 When it comes to kooky spooky cocktails and ghastly edibles, there is simply no better vessel than a good
old-fashioned cauldron. (Think Salem Witch Trials old.)
This perfect pot can hold potions of all temperatures and volumes, so no matter what brew you have bubbling, it will remain as sumptuously spine-chilling (or mind-melting) as intended. The wicked deep ceramic bowl has a 2.4 gallon capacity and with its black matte finish, it looks as scrumptious as it is practical. Place it in the center of your table for Halloween (and throughout the Fall season) for easy access and admiration.
Cost: $199.00
---
Halloween Work Essentials
If you thought accidental burns were frightening, imagine having to work on Halloween! Even worse, think about toiling away in a troubling drab, dark room all day while everyone else is bringing the party to their WFH space . . . *shudders.*
This year, go trick-or-treating for some office eye-candy in the form of these adorable Halloween Treat hand painted trays. They are the perfect organizational tool for a messy desktop with enough space for all of your White Out, wires and wands.
Cost: $12.00 to $18.00 each (depending upon size)
The most magical season of all, Fall has the power to enchant our senses and place us under its mystical spell. Cool mornings filled with clouds of warm breath and evenings of orange fires and toasty wood create an almost otherworldly atmosphere I often find myself missing when winter arrives.
Long days at my desk sometimes keep me from stepping outside to inhale all the best smells, and in those moments, I'm especially grateful for my Spirit House candle from Porch Light. With a distinctly autumnal aura, spicy notes of coriander and vetiver will fill your office with an eerily calm vibe so potent it will lift the veil between work and play.
Price: $44.00
Around this time of year, the sun always seems to disappear at an alarmingly earlier hour everyday. It's so hard to stay focused on the last section of my workday when 4:00PM feels like 8! Sometimes bright light bulbs don't do the trick, and it's always my preference to light some candles to bring my workday back from the dead.
Keep it creepy and concentrated with these Black Iron Taper Candle Holders from Stoffer Home. Your candles will look bewitching in these matte black holders as they turn your office into a rustic fall oasis.
Price: $28.00 each
---
Halloween Play Essentials
Remember all that candy we were just talking about? Yeah, you're gonna need a bag for it! Don't rely on just any flimsy plastic or paper to do the job either. You're gonna need a tote tough enough to take on tons and tons of the good stuff, like this wicker one by Paloma & Co. It's beautiful, durable, and the perfect accessory to a truly award-winning Dorothy costume.
Price: $150.00
If you'll be fully adulting this Halloween by swapping the candy for some classier cooking and entertaining, you could always ask Alexa or Google for its most recommended recipes, risking the possibility that a friend or a fellow guest has done the same. OR you could get your hands on a truly rare find: Lee Bailey's Cooking for Friends. This is a shockingly fabulous vintage copy of a truly iconic culinary grimoire and your key to an absolutely killer meal.
Price: $55.00
There's nothing more vital to a successful Halloween than piles, no mountains of candy! No matter how young you may (or may not) be, the "treat" of trick-or-treating never gets old. Don't be sadistic; remember to leave something sweet for your neighbours before you head out on your own treasure hunt! Make their candy-binging fantasies a reality by filling up a huge pot like this handmade red clay one from Minna with goodies of every shape, size, and sugar content (the higher the better, I always say).
Price: $95.00
Halloween is always a time to howl at the moon! And with this circular puzzle of the clearest image of the Moon to date (even showing the craggy craters) taken by NASA, you'll be able to howl at the moon at any time during the season and beyond. Heed this Halloween warning: You may be howling because of the dastardly complexity of the puzzle, as no two pieces are exactly the same shape.
Price: $25.00